15 Best SEO Tools You Can Use Daily in 2023
As an SEO young specialist, you know you have to help as many businesses rank as possible to become a great success in this industry. Sadly, even today, in 2023, when everything has moved online, there are still entrepreneurs or business owners who consider SEO pointless and rather a hassle that only certain businesses can tackle.
Other businesses see the value of it but are too overwhelmed by the process and the amount of work it would take to rank. This is where you come in and explain that the search industry is here to stay, and it has become a vital part of our everyday life. You don't want your clients to miss out on reaching their audience and scoring additional sales without a proper optimization process in place. And SEO does not have to be expensive. You just need the right tools.
In this article, we will look at the best tools for SEO optimization every beginning specialist can use in 2023 for the best possible results. But before we do that, let's consider a few arguments.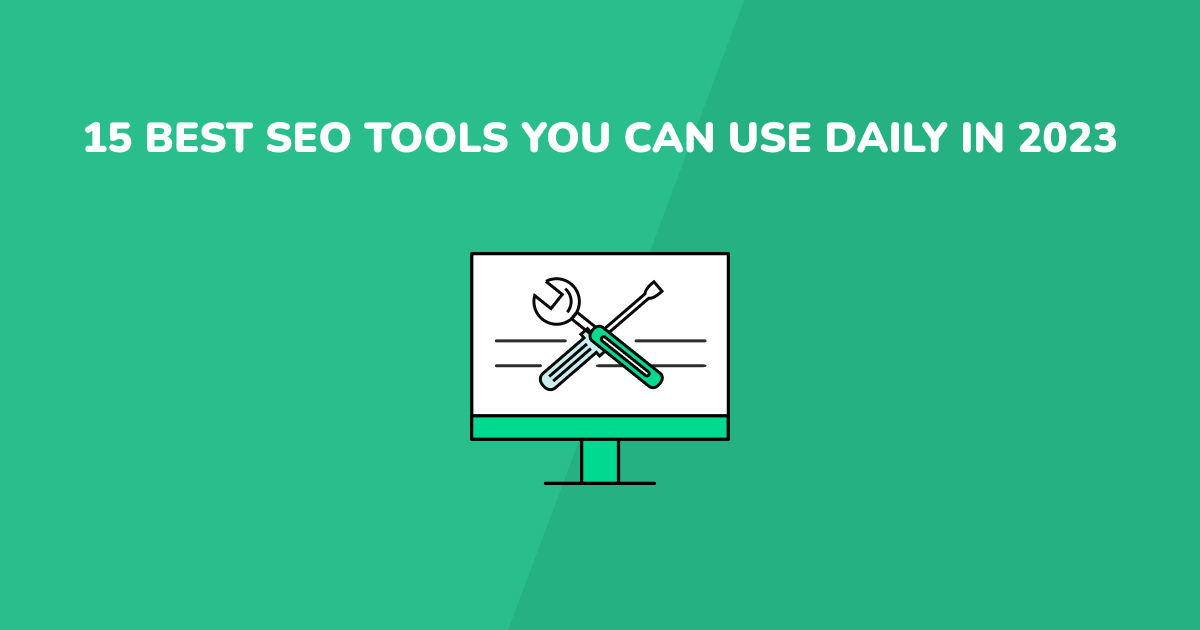 The Essential Google Stats to Keep in Mind When Starting with SEO Software Tools
If we take a close look at Google as the unquestionable champion of search, we notice traffic that grows every day, every minute.
Every second of every hour, close to 100,000 searches (actually 99,500 as per Internet Live Stats-2023) are being launched worldwide. A simple calculation would bring the number of searches in a day to over 8.5 billion.
As Google is undoubtedly the most visited site in the world, it is no surprise to anyone that the platform holds over 92% of the market share, according to a February 2023 GS StatCounter statistic.
Consider the other search engines. Bing only covers 2.88 percent of the market share, while Yahoo! has 1.51 percent of the total market share. These are closely ensured by YANDEX with 1.27 percent and Baidu with 1.16 percent.
Given the scale of searches on Google alone, we can assume that numerous potential buyers are searching for your client's products or services every day. Yes, natural SEO optimization happens when you produce a lot of good content, and the website you are working on can appear in Google results naturally, without doing much SEO. But this will never happen on the first page, maybe on the 4th or 7th… How will placement on the tenth page of Google help your client's business to succeed?
Consider these very important user statistics on Google
Of a wide pool of potential users:
28% choose the first result on the first Google result page
15% click the second result on the same first page
11% click the third result, again on the first page
8% click the fourth result- guess where from?- yes, you are correct: still, the first page
Less than 1% of searchers even consider going to the second page
So, the ranking will be the lifeline of every business trying to get more clients. And without proper optimization, they will never get where they want to be.
Top 15 SEO Tools to Help Your Clients Rank Higher in 2023
Lucky for you, as a search engine specialist, new SEO website tools are constantly being created to make your life easier, and simplify the process of helping your clients rank more professionally. In the SEO world, many different tools can help improve your website's ranking in search engine results pages (SERPs).
Here is a top SEO tools list you can use in 2023.
1. LinkChecker - Backlink Monitoring Has Never Been Easier
A LinkChecker is a tool used to check the health of links on a website. LinkChecker is one of the best SEO software that is used to check the status of links on a website. It can check for broken links, redirects, and other link problems.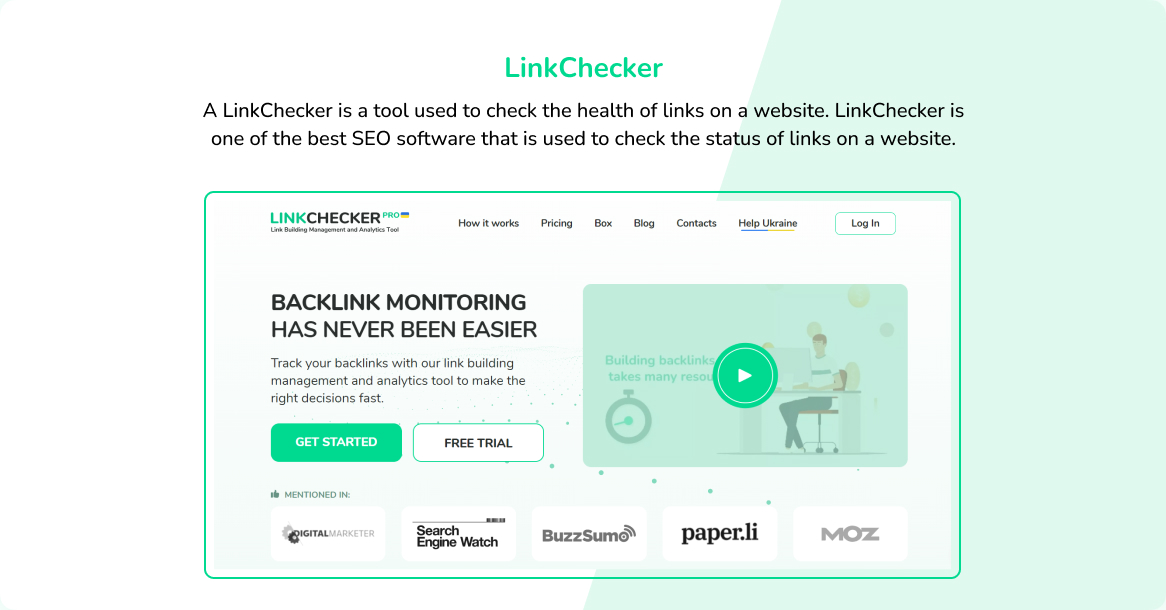 How does it work?
LinkChecker Pro works by fetching the URL of a page and checking the HTTP status code returned by the server. If the status code is anything other than 200 (OK), the link is considered broken. The tool will also check for any redirects that may be in place and follow them accordingly.
Features of LinkChecker
It can be used to check external, internal, or both.
Can find links that are slow to load or redirect.
Free trial and open source.
Follows redirects automatically.
Checks for valid HTTP status codes (200, 301, 302, etc.).
Validates the links on a webpage.
2. Surferseo - Skyrocket Your Organic Traffic with Surfer
Surferseo is a powerful software for search engine optimization that provides users with comprehensive insights into their website's search engine optimization. It offers a wide range of features that helps users to improve their website's ranking in SERPs.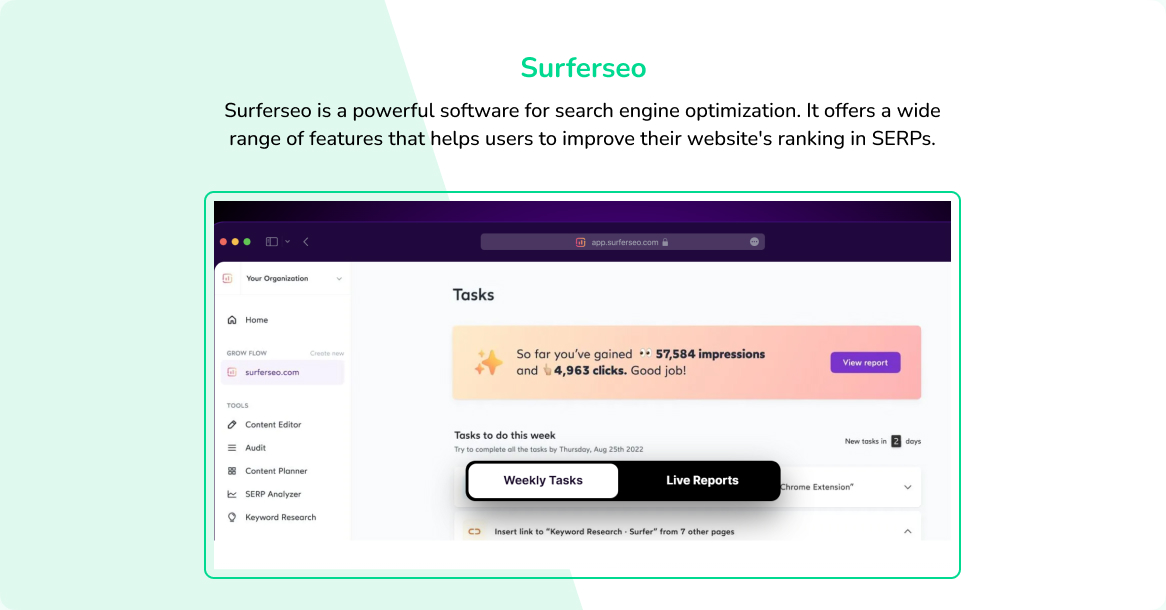 How does it work?
Surferseo works by analyzing your website's SEO data and providing you with actionable insights that can help you improve your ranking. It also offers a variety of tools that can help you to optimize your website for better search engine visibility.
Features of Surferseo
Provides users with detailed insights into their website's SEO performance.
Offers a variety of tools that can help users to improve their ranking in SERPs.
Keyword research tools are available to help users find the right keywords for their websites.
Provides on-page optimization features that can help users to improve their website's ranking in SERPs.
Offers link-building services to help users build high-quality backlinks for their websites.
3. Zennoposter - Automate Any Task on the Internet
Zennoposter is a powerful web automation tool that enables users to create and deploy automated tasks, or so-called "bots." It is one of the best SEO tools available. It can help users easily automate repetitive and complex web-based tasks, including data entry, form submission, web scraping, and much more.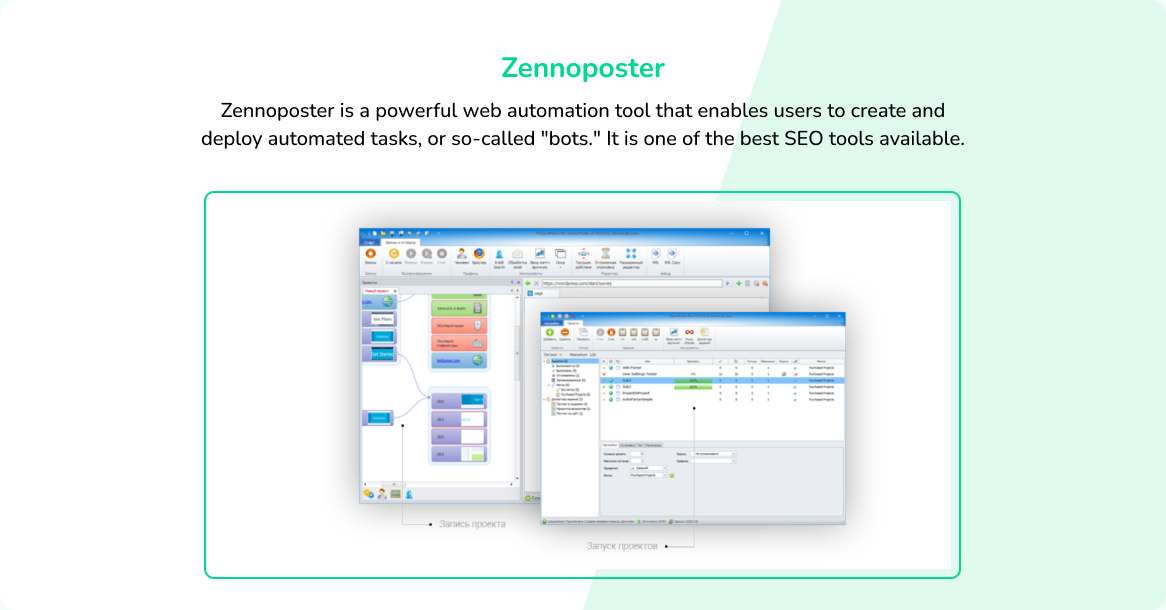 How does it work?
Zennoposter works by providing users with an easy-to-use graphical interface for creating bots. Once a bot is created, it can be deployed to run automatically on a schedule or in response to certain events. For example, a bot could be configured to fill out online forms whenever new data is available automatically. Additionally, bots can be chained together to create more complex workflows.
Features of Zennoposter
Automate any task on the web with ease. No programming is required! Simply point and click to create your bots.
Automate data entry tasks with ease. Zennoposter's built-in form-filling capabilities make it perfect for online registration and order-processing tasks.
Extract data from websites automatically with Zennoposter's powerful web scraping capabilities.
Chain multiple bots together to create complex workflows that would otherwise be impossible to automate.
Schedule your bots to run automatically.
4. A-Parser - Scraper for SEO Professionals
A-Parser is a fast, lightweight SEO online software that gathers website data. It has a simple interface that allows users to select the type of data they wish to collect, such as titles, meta descriptions, headings, etc. Once the user has selected the desired data, A-Parser will crawl the website and output the results in an organized format.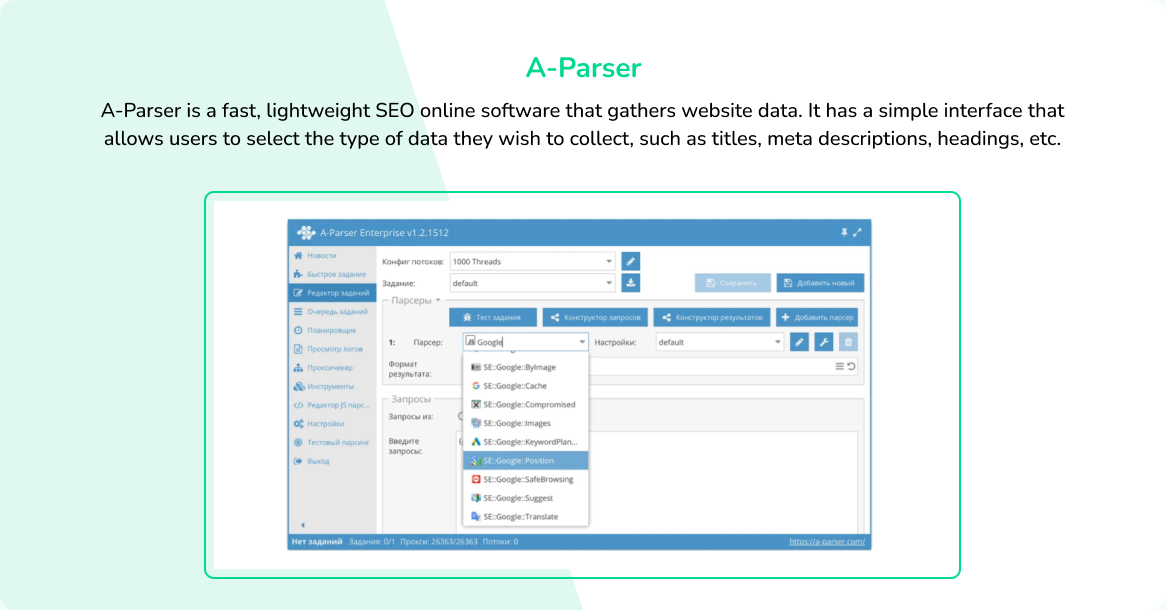 How does it work?
A-Parser works by crawling websites and extracting data from the HTML code. It then outputs the results in an organized format that can be easily exported to Excel or other spreadsheet applications.
Feature of A-Parser
A-Parser provides a comprehensive analysis of the keywords that you are targeting. It shows you each keyword's monthly search volume, competition, and CPC.
The tool's rank-tracking feature allows you to track your progress over time. You can see how your rankings have changed for different keywords since you started using A-Parser.
A-Parser's link-building feature helps you to create high-quality backlinks to your website. This is an important ranking factor and can help improve your website's visibility in search engine results pages.
Its website auditing feature checks your website for common technical issues that can affect its performance in search engine results pages.
5. Semrush - Online Marketing Can Be Easy
Semrush is a comprehensive SEO tool that covers all the necessary aspects of Search Engine Optimization. It is a powerful tool that helps you to improve your website ranking in search engine results pages (SERPs). Semrush also provides detailed insights into your competitors' SEO strategies, allowing you to identify their strengths and weaknesses.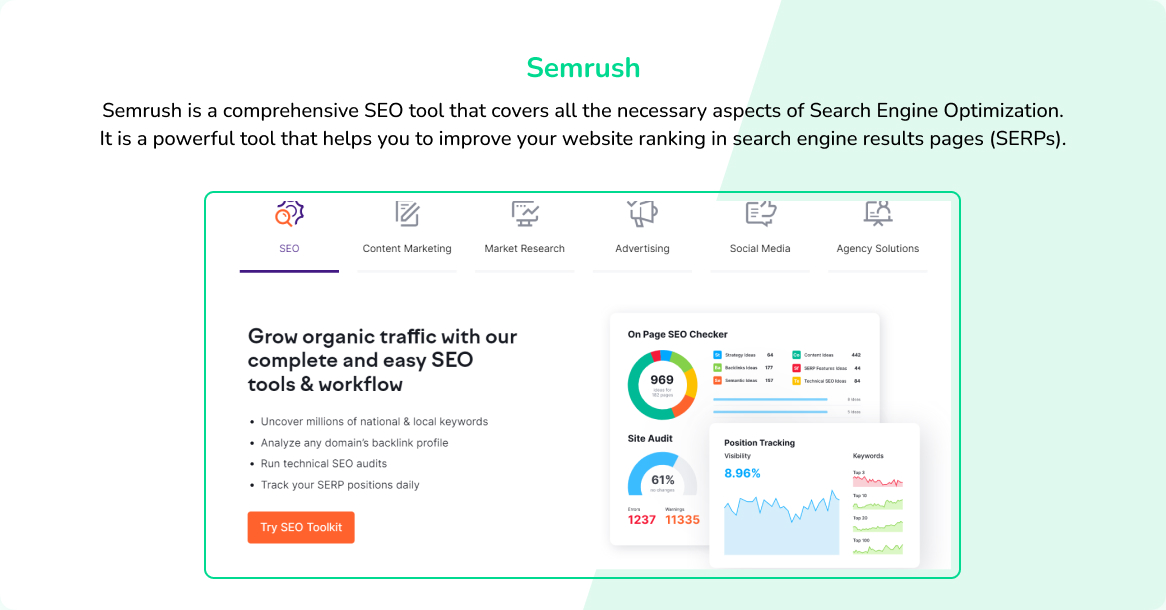 How does it work?
Semrush relies on its own machine-learning algorithms and trusted data sources to obtain the information in its databases. Different methods are used to collect different types of data, but the overall quality of the databases remains consistently high.
Features:
It allows you to see detailed data on keyword difficulty, search volume, and SERP features.
The competitive analysis feature of Semrush allows you to track your rivals' progress and strategies.
The site audit feature checks your website for technical issues that could be impacting your SEO performance.
It also offers a 7-day free trial, so you can try it out before deciding whether to subscribe.
6. SERanking - SEO Software for 360° Analysis of Your Website
SERanking is a cloud-based SEO platform that enables businesses of all sizes to optimize their website for better search engine visibility. The platform provides users with tools to track their website's organic traffic, keyword rankings, and backlinks. SERanking offers features to help users improve their website's content and on-page optimization. However, its backlink monitoring features are not more accurate and detailed as those of LinkChecker.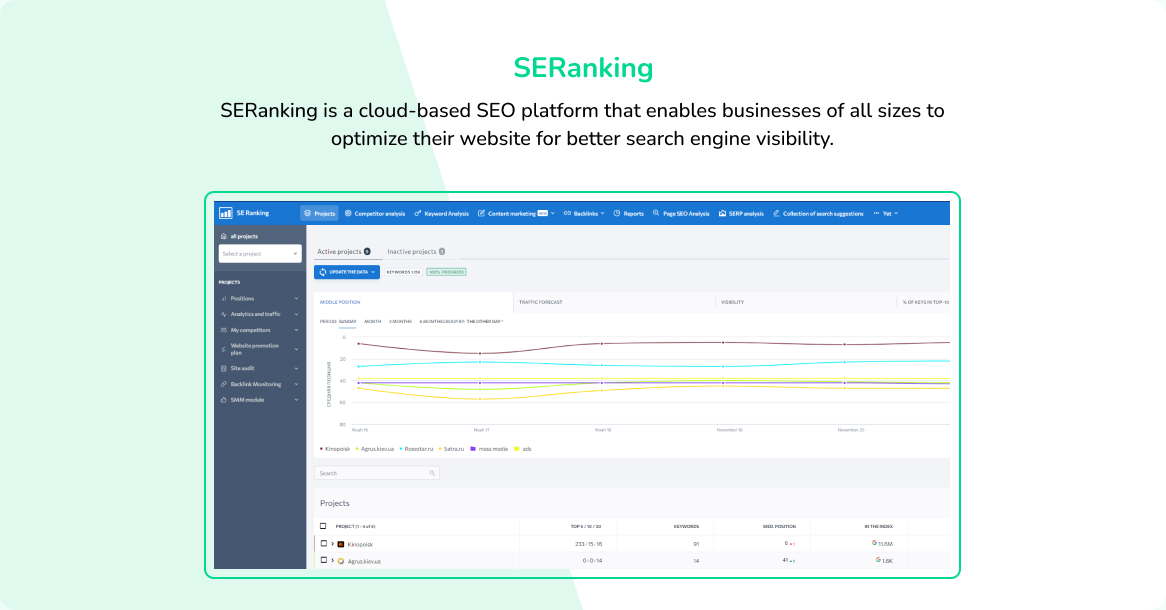 How does it work?
The platform works by tracking a website's organic traffic and keyword rankings. It then uses this data to provide insights on how to improve the website's SEO. SERanking offers features that help users improve their website's content and on-page optimization.
Features of SERanking
Tracking of organic traffic and keyword rankings.
Insights on how to improve website SEO.
Improvements in website content and on-page optimization.
7. Searchmetrics - Turn Search Data into Revenue
Searchmetrics is a software that provides SEO and online marketing analytics tools. With Searchmetrics, you can easily improve search engine optimization, web content, and website performance all in one place. The platform provides many great tools and integrates easily with third-party apps.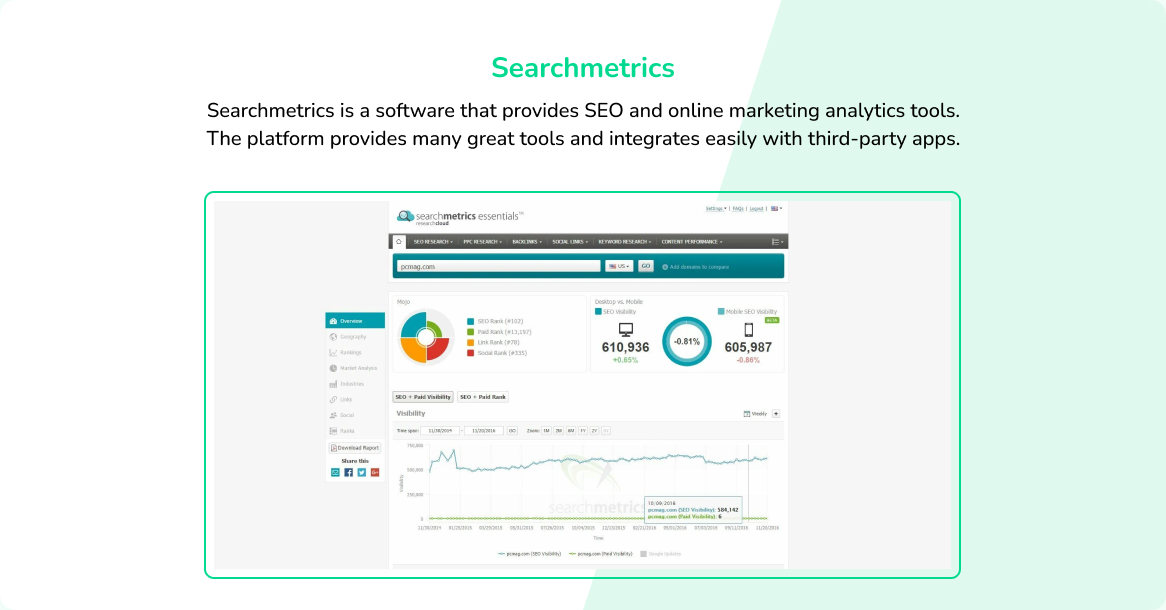 How Does It Work?
The tools crawl the web to collect data businesses can use to track their progress and performance. They provide insights into keyword research, website structure, and content optimization.
Features of Searchmetrics
Check daily progress for any keyword in any location worldwide.
Monitor competitor rankings and performances side-by-side with your results.
Analyze which content is ranking well and where there are opportunities to do better.
See how your website is structured and identify any potential issues affecting your SEO performance.
You can find the right keywords to target for your SEO campaigns.
8. Moz Pro - All-in-one Suite of SEO Tools
Moz Pro is a comprehensive SEO tool that helps you optimize your website for better search engine visibility. It offers tools to help you with keyword research, link building, on-page optimization, and more. Moz Pro also provides insights into your competitor's SEO strategies so you can stay one step ahead.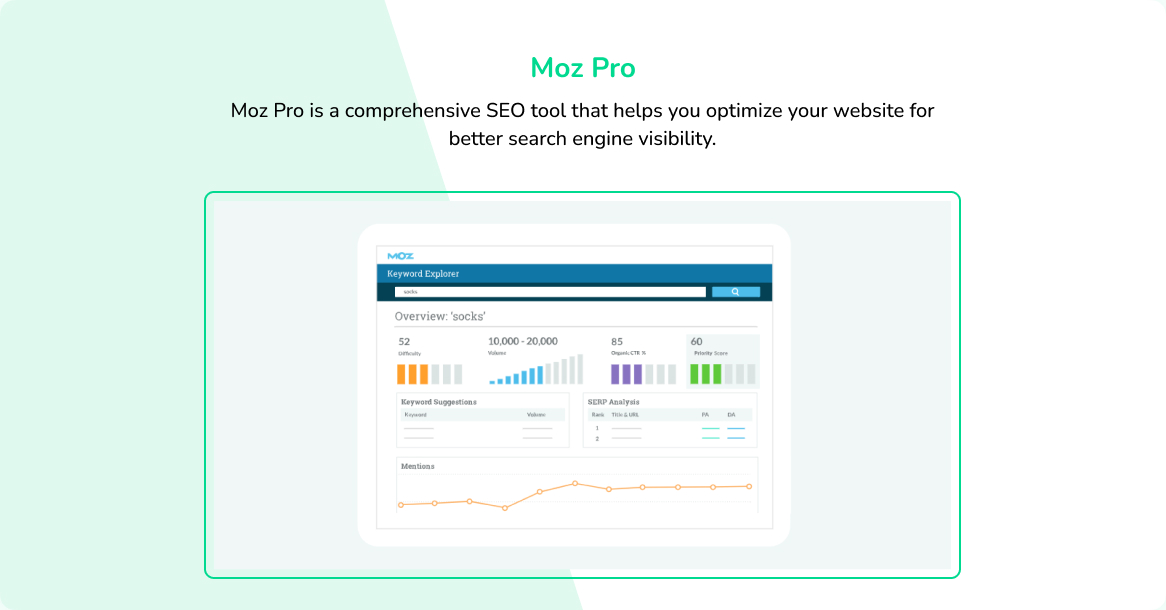 How does it work?
Moz Pro works by crawling your website and identifying areas that need improvement. It then provides actionable recommendations on how to improve your website's SEO. You can track your progress over time with Moz Pro's progress tracker feature.
Features of Moz Pro
Its keyword research feature helps you find the right keywords to target for your website.
Link building helps you with high-quality backlinks to your website.
On-page optimization can optimize your website's title tags, metatags, and other elements for better search engine visibility.
A competitive analysis allows you to understand what your competitors are doing so you can stay one step ahead in the SEO game.
9. Google Search Console
This is one of the many tools SEO experts and developers utilize today to monitor the performance of websites. It is a very professional tool that provides a wide range of page and user experience reports, error reports, keyword searches and keyword needs reports, and mobile site reports. This makes it an ideal starters' tool for any website.
Formerly known as Google Webmaster Tools, it was originally launched in the early 2000s. As a reliable report search tool, Google Search Console has been rebranded and functioning as a free resource for SEO and search and digital marketing as of 2015.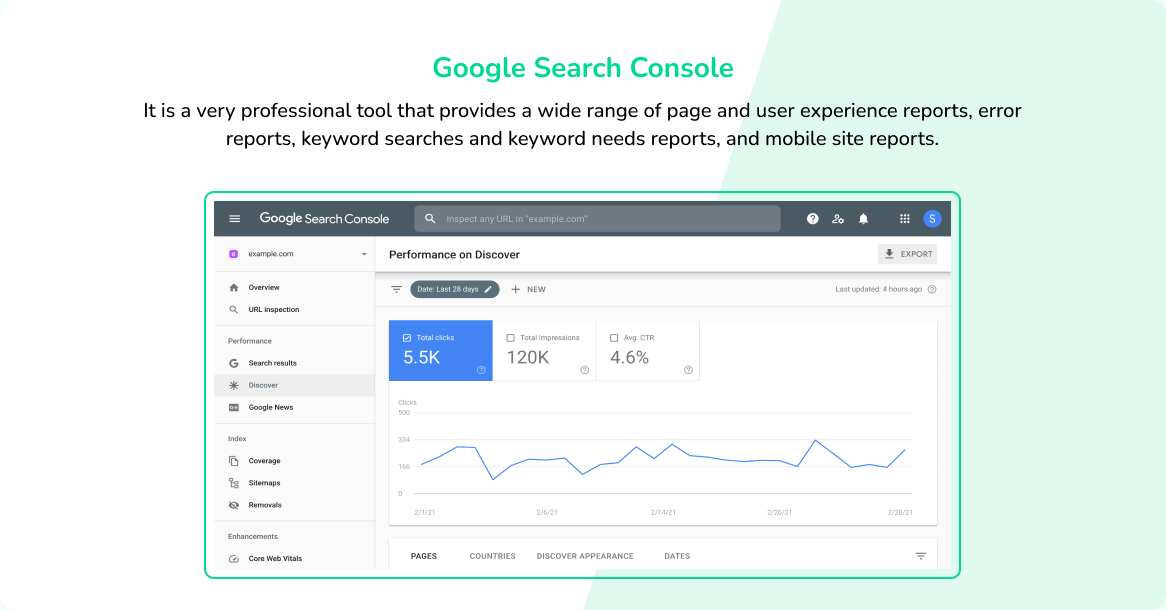 How Does It Work?
Google Search Console is designed to track any website's performance in real-time, and it will help you produce very professional and useful reports. It has the capabilities to show you which parts of a website need additional work; it will show the number of crawl errors that need fixing, while also giving certain keywords more prominence. It basically shows you where to look and where to improve your optimization process.
But this is not all it does. Once registered, this valuable tool will constantly send notifications when new errors are observed. This is precious information that will allow you the ability to intervene with haste and make sure the site you are working on is error-free.
Some Features You Want to Look Into
The Google Search Console has a wide-ranging list of features, but a handful of them are instrumental.
Sitemaps
Indeed, the search console is not a compulsory thing to use for Google to index your site, but using it will speed the process a lot and help you keep an updated sitemap. Especially for WordPress and Yoast plugin users, a perfectly formatted sitemap will be created automatically for the website you are optimizing.
Site Performance
The Google Search Console tool will show you which pages on a site are getting more clicks and impressions.
Link Results
The tool will also assess the overall performance of the website by providing a comprehensive list of the top linking websites, along with a list of all the external links to the website you are optimizing.
10. Screaming Frog
As a beginner in SEO professional optimization, you know you will need a lot of free tools to use to succeed in your process. Many SEO experts in 2023 will use a variety of tools to make sure that search engine bots can crawl and index the websites they are working on. Screaming Frog is one of these tools. It has been around for a while, but it is gaining a lot of popularity today.
So what is Screaming Fog? It is basically a web crawler that helps you create an audit of any site and provides a lot of insights into its performance. If you are just starting out with it, the software might not be the easiest to use at first, but it is free.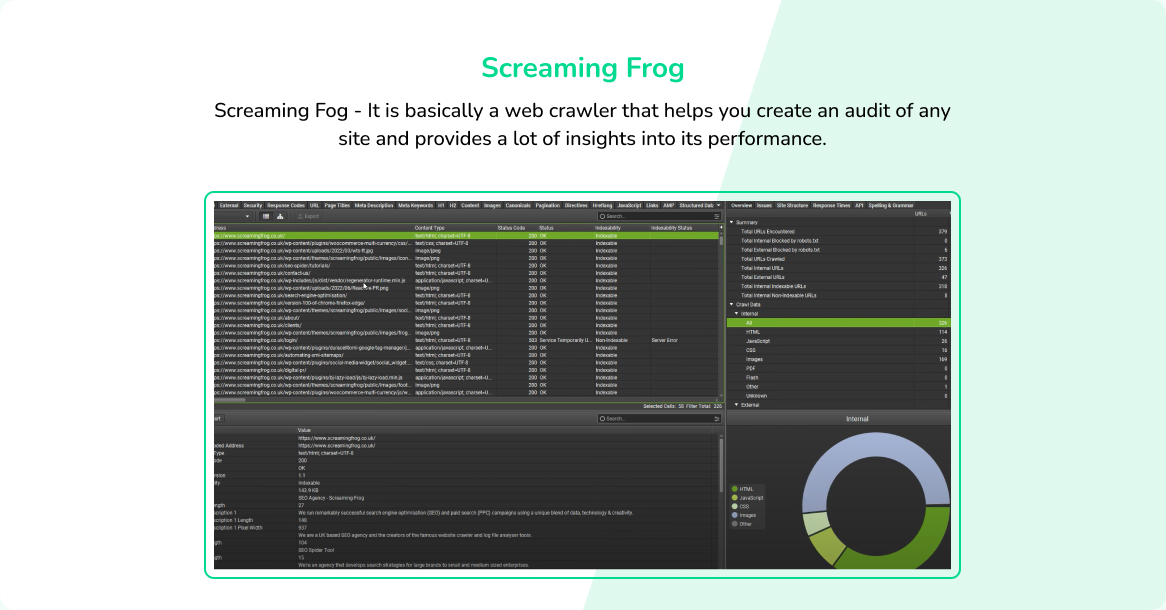 How Does Screaming Frog Work?
This is a very robust and well-constructed tool that works as an app you download. The data the app will collect is a treasure trove for anyone looking to improve a website's functionality and relationship with the search engines. You get link and server error reports, redirect and blocked URL reports, the status of all the website's links, both internal and external, security data on URLs and links, and metadata information.
Some Features You Want to Look Into
Data Extraction and Web Scraper
When looking at a website for errors, you will realize the Screaming Frog tool already gathers together the most helpful SEO tools, such as H-tags and metadata. But the best thing about this feature is that you can scrape all the call-to-action button uses on a site, or you can locate input or user-generated forms as well. The web scraper functionality will gather this sort of information from any element across the website and can help you map out these resources. This is not something many tools can do.
Redirect Audits
When you are performing migrations, another helpful feature is the link redirect audit Screaming Frog will produce. What this function does is basically allow you to input a list of old web URLs and redirect them to the new URL you are creating.
404s Link Identification
404s are definitely a frequent problem for the vast majority of websites, and sometimes, fixing them is not as easy as it may appear. With this free Screaming Frog functionality, you can decide which 404 you want to prioritize, as the tool shows you all internal and external links pointing to them.
11. Ubersuggest
Created by SEO and Marketing influencer Neil Patel, this is a tool that will help any aspiring SEO provider or website owner improve a site's SEO, analyze backlink data, find the best keywords to rank for, and, last but not least, generate a lot of content ideas. This is a tool that works best for small businesses or online service providers that work as freelancers, helping them gain more organic website visitors. It is not one of those extensive and very expensive SEO tools, but what it does is still awesome. You will find Ubersuggest is the best when you are looking for quick, valuable keyword lists and content ideas.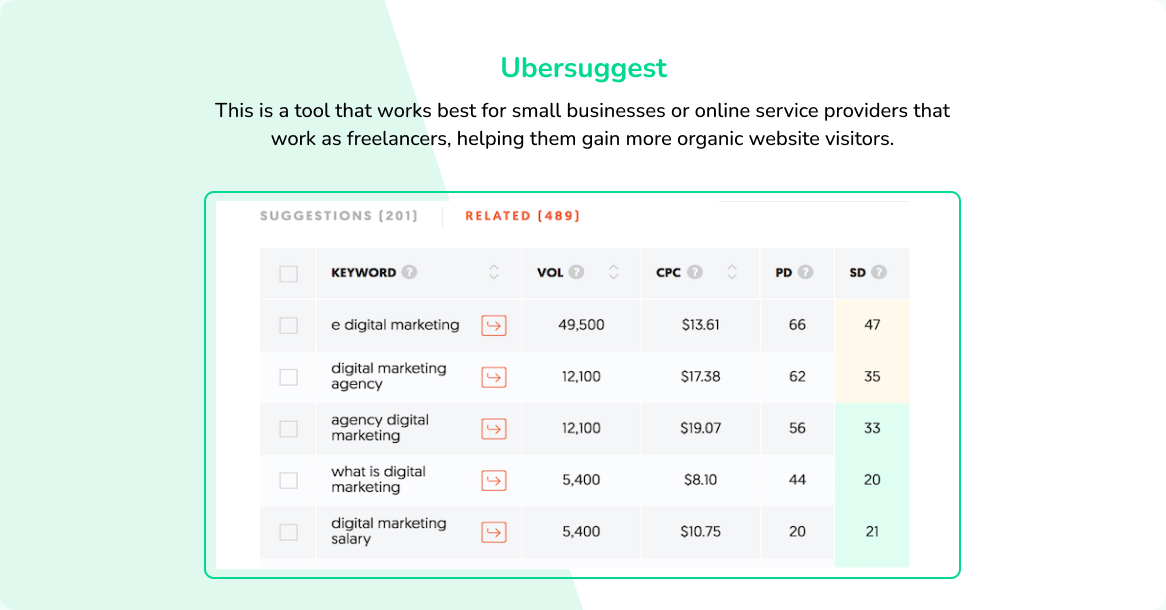 How Does Ubersuggest Work?
There is nothing complicated about how this tool works, in fact. It basically functions in the same way as many other expensive online tools. It will analyze all domain data, keywords, and backlinks of a website and generate information about how competitive they are. The search bar allows you to type in a keyword and see all the relevant data returns.
Some Features You Want to Look Into
Keyword Ideas
If you are helping a website generate an SEO strategy around content, you will definitely need to recommend keywords and processes that reflect your clients' industries. They will not build content based on a single keyword, but rather on a combination of ideas, questions, or user interests. The many keyword idea components the tool suggests will allow you to put together a list of topics that will become vital.
Keyword Overview
When analyzing different keywords, you need a lot of relevant information, not only some cold figures that your clients will not understand. The Ubersuggest tool will show you stats such as a keyword's search volume, their organic SEO difficulty, their paid difficulty, and their cost per click. You can also get trend graphs, which will provide a very good idea about the traffic behavior for one keyword over the past 12 months.
12. Ahrefs Backlink Checker
Created over 11 years ago, this has quickly become an indispensable tool for SEO specialists. Ahrefs is much more than just a backlink checker tool. As a beginner, it can be overwhelming, but the website is set up in such a way that repeated use will help you take your client's websites to the next level by increasing traffic. The beauty of Ahrefs Backlink Checker lies in the fact that it can be successfully used by small or medium-sized website business owners or just individual service providers, but also by SEO agencies.
How Does Ahrefs Backlink Checker Work?
Any SEO beginner knows that bad backlinks can have a very negative impact on any site. They have a worse effect on how a website will perform with search engines than good links. If the website you optimize has hundreds of spammy links with a bad domain rating, Google will end up lowering your score, and this will affect the way the site ranks.
The tool will help you find all of these and get them removed. The removal process is done through two methods:
Contacting the linking site and asking for removal;
Disavowing the links with Google.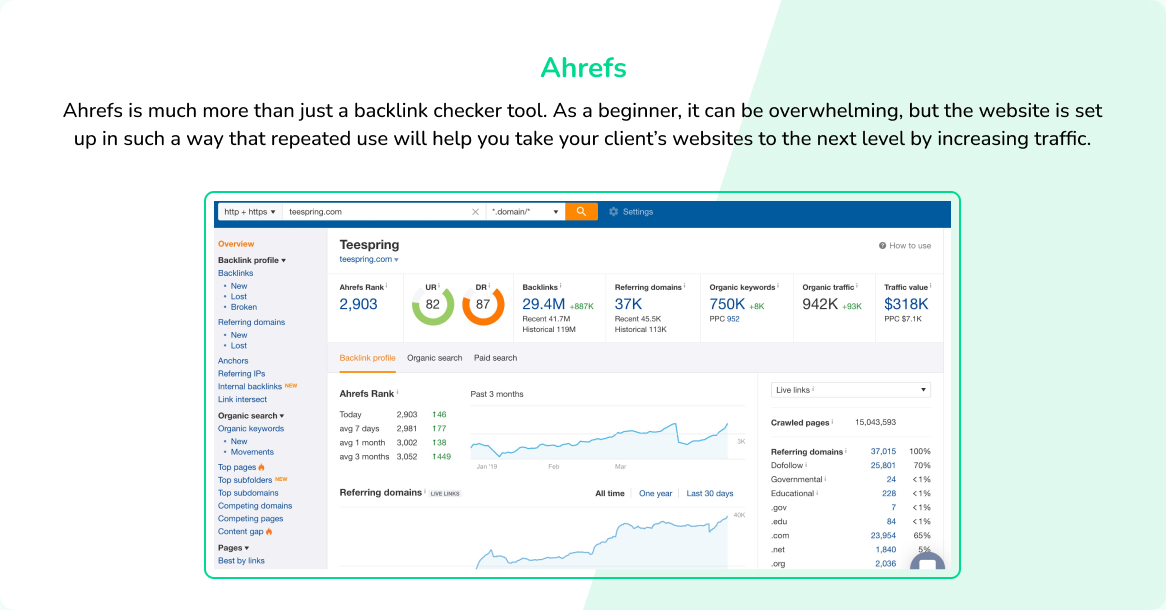 Some Features You Want to Look Into
Link Intersect
This is a newer addition to the Ahrefs tool, and many SEO specialists find it very useful. What it basically does is provide you insight into which sites are linking to up to three separate domains and then are not linking back to you. This will let you see what other backlinks you could "borrow" from your competitors and manage to rank in the process.
Broken Backlinks
Many other free tools of the ones we've mentioned so far use this, but with Ahrefs, this will be easy to use. Finding broken links can be tricky. Usually, these show that the page for that exact URL is no longer visible. There are multiple causes, but one of the most frequent is that the URL may have slightly changed.
13. AnswerThePublic
Every keyword strategy and SEO process will end up with content creation. One of the best tools to generate a content strategy that actually reflects what today's users are looking for is AnswerThePublic.
Any efficient content marketing will strive to create engaging and useful content that readers can relate to. It is the only way to sell something today. However, even the best article or optimized SEO content piece will end up unread if it is not answering a question the public has to ask.
How Does AnswerThePublic Work?
Before you start brainstorming topics and pitching titles, you need to know exactly what your target audience is looking for. AnswerThePublic is, fundamentally, an automated autocomplete tool. It will generate suggestions based on popular searches. As an SEO strategist working on a site, you'll want to pick a topic that can be effortlessly linked to the pages you wish to promote but also reflects the pain points your users have. What is a website's potential audience trying to find out about the services they deliver? What are the challenges they encounter, and how you can help create content that will answer those questions?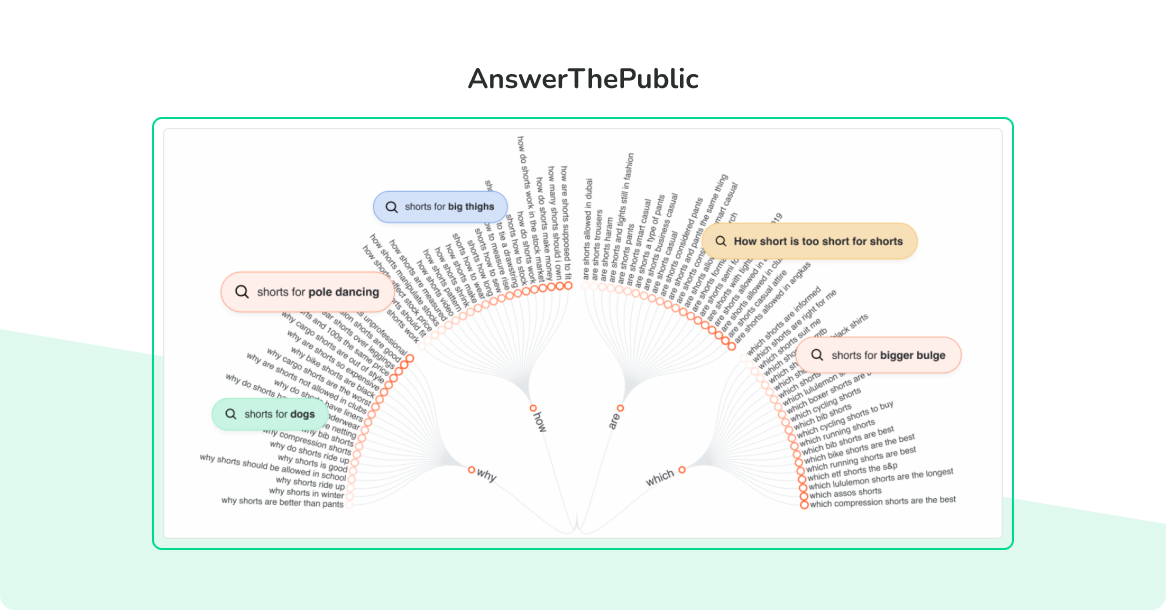 Are There Features You Want to Look Into?
While the tool does not have features per se, like the other tools we have presented, there are a few things you should know about AnswerThePublic.
While this can work well if you just type a few search terms into it and then download results and start building a content calendar, one thing you should know is a real strategic value comes from using this tool in combination with others.
For instance, you will need to use a good keyword research tool to make sure you have the right search terms to input into it. You will also need to have a good buyer persona strategy for the website you are using this for. Knowing what type of audience you are optimizing the website for will yield much better results.
14. AccuRanker
This is very easy to use and quite efficient. It is basically a real-time app that will provide you rankings for the website you are looking to optimize. On top of it, it can provide rankings for competitors. With the free version, you can check up to 10 keywords in one search, and you can see results for desktop and mobile sites in over fourteen countries.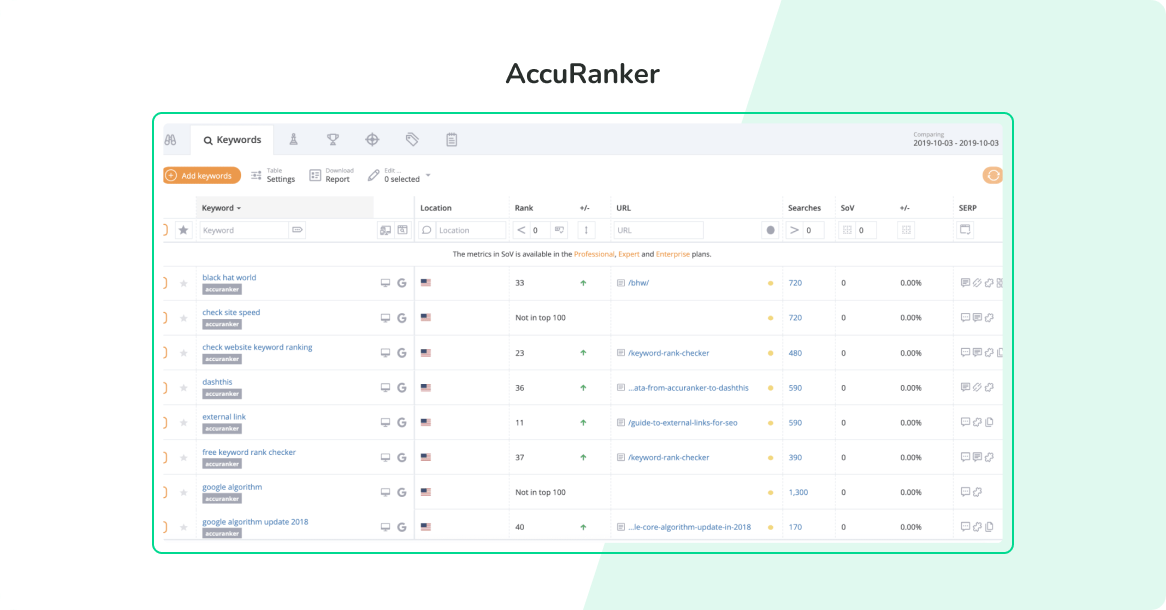 15. Spyfu
This is very efficient when used as a paid tool, as it provides valuable insight into many of the competitor sites. Even the free parts of it will provide a lot of important data on which keywords a site is ranking from, who are their direct competitors, the paid ads they are using, and a lot more. For many SEO strategists, this is the best way to see what others are doing to rank.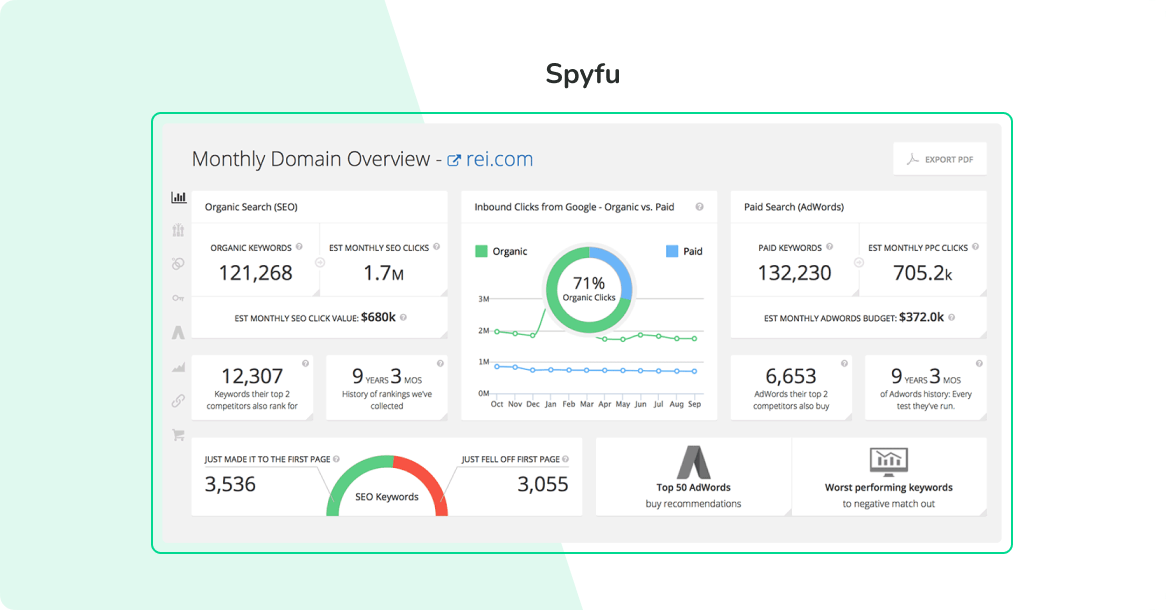 Get the Best SEO Tools for an Unbeaten Strategy in 2023
So there you have it: the best free SEO tools you can use in 2023. There are many ways in which you can use these tools, and we typically recommend using them in combination with one another for the best possible results. For example, you might use one tool to help you find key phrases to target and then another tool to help you track your progress over time. What are your favorites?