Backlinks Management: All You Need to Know
On the surface, it seems that building backlinks is easy, and that is where most people focus all of their attention. The real challenge comes when you have to manage all these backlinks. There is a lot more to backlink strategy than initially meets your eyes. Backlinks need to be managed, not only by making more but further by looking after the precious ones you already have. Most websites focus on the former, but the latter is very often neglected.
Backlinks have a tendency to break, for which there can be a number of different reasons why. Website owners can delete backlinks which would render the link broken as well as this typing mistakes can happen, they can change your links to nofollow links and backlinks are sometimes prevented from being indexed altogether. With it being off-page SEO, sometimes this is completely out of your hands and without backlink management software, you would be unaware of these errors occurring.
With this at the forefront of our thought process, some sort of backlink management software is becoming an ever-needed necessity in the SEO world. Here we will discuss how to manage your backlinks using Link Checker Pro. We will cover different aspects of backlink management, including why you should manage them, the different types of links, and how to use backlink management tools like LinkChecker.Pro to improve your website's overall profile.
Why Bother Managing Your Links?
With backlinks being one of the highest deciding factors in website rankings, it is essential to have and maintain as many high-quality backlinks as possible.
There are many reasons why you need to actively manage these backlinks. Some of the most important reasons include:
To protect your existing links.
To review incoming links and determine their quality.
To build more dofollow and nofollow connections with link-building strategies.
To perform competitor backlink analysis.
To improve your website's ranking in SERPs.
To increase traffic to your website.
To improve your website's authority
Link Quality
Link quality is a huge deciding factor in your ranking. It's all well and good having 1000's of connecting sites, but if these backlinks are low-quality - or as we like to call them 'trash-links' - then this can actually have a detrimental effect on your site's authority.
The text you make clickable (hyperlink) should be relevant to the page it's linked to. This is called anchor text, and google rates websites higher when their anchor text is accurate. In other words, if a potential customer clicks on a hyperlink that says "dog toys" they should be brought to a page with information specifically about dog toys.
Checking up on your anchors allows you to make sure the connecting links stay relevant and of good quality.
Broken Links
When a backlink is no longer working, this is considered broken. This can happen for many reasons - the most common being that the site you're linked to no longer exists, or the URL has been changed and the old one not redirected.
A broken link is bad for a few reasons. Firstly, it gives your users a poor experience as they click on a link expecting one thing but are brought to another, or worse, a 404 error page. Secondly, it tells Google that your website is not well-maintained, which will hurt your rankings too.
Backlink Types: What's the Difference?
There are two main forms of backlinks: dofollow and nofollow. Dofollow links are the most valuable type of link because they pass along what is called "link juice". Link juice refers to the strength of the link that is passed from one site to another.
Nofollow links don't pass along link juice. They are generally used as a way to prevent spammers from getting too many links from your website by telling google crawlers not to follow them. Nofollow links are less valuable than dofollow, but they still have some value for SEO.
Text anchors are one thing, but other types of backlinks include image and javascript links. Both of these are crawled by google and may or may not give link juice depending on their dofollow / nofollow value.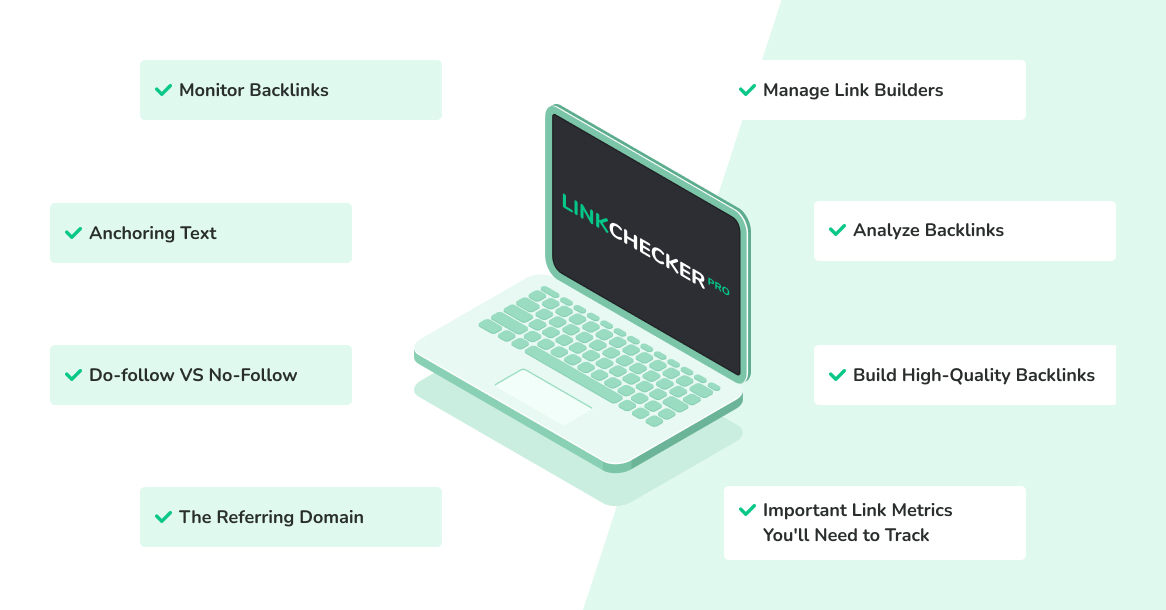 Why Use Link Checker Pro to Manage Backlinks
Monitor Backlinks
The first and most important reason to use Link Checker Pro is to monitor your backlinks. You can see when a new backlink is built by your link builder and you can also see when an existing backlink disappears or gets a problem.
Manage Link Builders
Another great reason to use Link Checker Pro is to manage your team. If you have a team of people working on building connections to your website, you can track their progress and see how many links they are building each week.
Analyze Backlinks
Link Checker Pro allows you to comprehensively analyze your backlinks. You may evaluate current data on the quantity and quality of backlinks, their changes, types, anchors, tiers, and much more. Plus you can manage up to several projects at a time.
Build High-Quality Backlinks
Domains and URLs, as well as IP addresses, are tested during batch analysis. URLs are also checked for their crawlability, indexability, and Google index presence. You can also integrate Ahrefs and Majestic if users connect their accounts.
Important Link Metrics You'll Need to Track
Before we dive deep into using Link Checker Pro to manage your backlinks, it's worth having a look at what metrics are crucial to keep your eyes on.
The Referring Domain
The first metric to focus on is the referring domain. It shows the details of the domain that's linking to your website. Reviewing the linking domains will give you an idea of the quality of links that are pointing to your site and allow you to remove any that will have negative ranking effects.
Anchoring Text
The anchoring text is the text that is used to link to your website. It's important to keep an eye on this metric because it can give you an idea of what keywords are being used to link to your website. Even though you may not have much control over this, it has been known for people to change their anchor text if you ask politely.
Do-follow VS No-Follow
Knowing the amounts of each is good practice to understand which areas you need to focus your efforts on more.
How to Maintain a Healthy Backlink Profile
Maintaining a healthy backlink profile is important for any website that wants to rank well in search engines. To keep your backlinks healthy, you need to regularly monitor your backlinks and make sure that none of them are causing negative ranking effects.
You should do this by evaluating your backlink profile regularly and making changes as needed. You can do this through software such as Link Checker Pro.
How to Manage Your Backlinks Using Link Checker Pro
The four main stages of backlink management are:
Protect
Review
Grow
Analyze
You do this through the following features of Link Checker Pro:
Backlink Analytics
Performance Review
Alerts & Reports
Batch Analysis
1. Protect Existing Links
Almost every SEO specialist says that the first stage of backlinks management is to protect your existing links. This means monitoring your backlinks and keeping an eye on any that disappear or get problems.
Backlink Analytics within Link Checker Pro gives you a quick overview with easy-to-follow charts that give you a quick view of your overall performance. You can then dive deeper into each problem that you spot directly within the software.
2. Review Incoming Links
The second stage in the SEO process of backlink management is to review your incoming links. This means evaluating the quality of the links that are pointing to your website and removing any that will have negative ranking effects.
By clicking on the icon with two little men in the top right of your home screen you'll be taken to the performance review tab of Link Checker Pro. From here you can view a quick bar chart overview of the different links and an in-depth analysis of anchors and link types.
3. Build More Links
The third stage of backlink management is to build more links. This means using link-building strategies to increase the number of high-quality anchors that are pointing to your website.
When a problem backlink occurs, alerts and reports allow you to see the broken links in real time which can be customized to be sent to your email and/or telegram at specified times and days of the week. The batch analysis further allows you to break down which sites are giving strong backlink juice to your website, and you can decide on where to divert your resources.
4. Competitor Backlink Analysis
The fourth stage of backlinks management is competitor backlink analysis. This means analyzing the backlinks of your competitors and trying to "steal" them. You can do this via batch analysis and use this data to prospect for new backlink building opportunities.
Backlinks Management: What SEO Tools Do You Need?
To effectively manage your backlinks, you need the right tools. But with the complexity of SEO these days, what do you need and what can you shut the door on?
Free Tools
If you can get things for free, why bother paying?
Google Search Console - This is free to use and shows you what information the search engine has on your site.
Google Analytics - It allows you to monitor your organic growth from the SEO strategies you have implemented.
Paid Tools
You can only get so far with free tools out there. If you want a complete solution, then you're going to have to spend some money, but it'll be totally worth it as you will start to rank high, thus proportionally increasing revenue.
Link Checker Pro - The all-in-one link management tool helps you with every stage of backlink management. It's easy to use and has a wide range of features that will help you effectively manage your backlinks.
Semrush - This is a paid tool that gives you insights into the best keywords to target for your given niche. It gives you the tools to completely research your chosen market to get off on the correct foot from day one of your SEO journey.
Ahrefs - One of the most comprehensive tools on the market, Ahrefs is unrivaled in its ability to give you detailed insights into your competitor's strategies and how you can beat them at their own game. You can research your keywords, audit your website and track your ranking, to name but a few of Ahrefs' features.
Conclusion
The bottom line is that SEO is complicated and there isn't a one-size-fits-all approach. What works for your site may not work for someone else's. What we do know for sure is that backlink building plays a crucial role in a site's rankings and without consistently attending to them, you can't expect your site to rank well on the search engines.
Link Checker Pro offers a comprehensive set of tools to help with backlinks management. If you're serious about ranking high up and want to take your SEO strategy to the next level, then Link Checker Pro is a must for you.