Link Building Tips That are Actual in 2023
Today, most popular brands and websites depend on their links to increase the popularity and traffic of their sites.
You might often hear the term "link building" or "backlinking." Link building is the process of acquiring links from other websites to your own. The more links you have back to your site, the higher your site will rank in search engine results pages (SERPs), and the more traffic you will get.
Quality links are now more important than ever, as they can help improve your click-through rate (CTR), organic search traffic, and overall site visibility and authority.
If you are just starting out in the online marketing world or looking for ways to improve your link building strategies, here are the top 15 link building tips in 2023 for beginners and experts alike.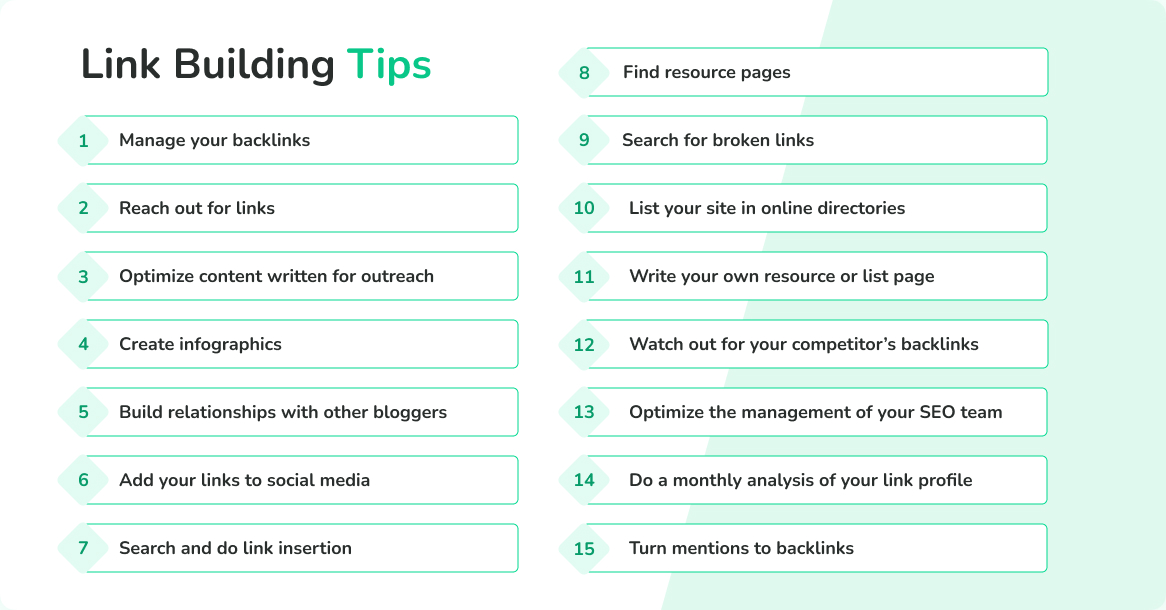 Best SEO Link Building Tips in 2023
1. Manage your backlinks
A good link building strategy starts with managing your current backlinks. It can help you keep track of your links in one dashboard, save time doing routine tasks, and manage your team in the process.
To manage your backlinks, you can use a backlink management tool like Link Checker Pro to check the quality of your links through up-to-date statistics on their dynamics, types, anchors, tiers, and many more.
With Link Checker Pro, your backlinks are automatically checked daily so you can be notified immediately when something goes wrong. Not only will it help you recover valuable backlinks, but it'll maintain your SEO rankings, too.
2. Reach out for links
Whether you are just starting out or have been in the game for a while, one of the best ways to get backlinks is to reach out to other websites.
The key is finding websites relevant to your niche or industry with a high domain authority (DA). You can find the DA of any website using an SEO tool.
When reaching out, be sure to personalize your message and offer something of value in exchange for a link, such as a guest post, infographic, or video.
3. Optimize content written for outreach
If you want people to link to your website, you need to have high-quality content that is relevant and informative.
Your content should be well-written, accurate, easy to read, and provide value to the reader. It should also be optimized for outreach with keyword-rich titles and descriptions and attractive images and videos to rank high in search engine results pages.
If you're unsure where to start, look at some of the most popular articles on your competitor's websites and see what topics they are writing about.
4. Create infographics
People love visual content, and infographics are one of the most shareable types of visual content out there. They are more likely to link to an infographic that is well-designed and informative enough to stand out from the rest.
Sometimes, your infographic or image will be shared or used without linking it back to your website. All it takes is a simple Google reverse image and a quick email to the website owner or editor to get your infographic featured on their site.
To make your infographic more linkable, be sure to include a custom URL and embed code on the page where you host it.
5. Build relationships with other bloggers
Most bloggers' top priority is creating content that their readers will enjoy. But they also want to be able to share that content with as many people as possible.
One of the best SEO link building tips is to build relationships with other bloggers in your niche. You can start by leaving comments on their posts and sharing their content on social media.
Not only will they be more likely to link to your website if they know you, but you can also collaborate on projects, such as guest posting or co-hosting webinars.
6. Add your links to social media
Using social media is a popular way to increase the reach of your content and get more backlinks. When you post something on social media, include links to your website or blog.
Google labels links from social media as "NoFollow" to reduce spam, which means that they don't directly affect your website's ranking. However, they can still help increase your CTR and organic search traffic.
7. Search and do link insertion
Link building can also be done by searching for opportunities to insert your links to existing content that's relevant to your brand. It's one of the best ways to get links without having to create any new content and spend money.
One way to do this is by finding broken links on other websites and replacing them with your own. You can also search for unlinked mentions of your brand or website and reach out to the site owner to ask them to add a link.
8. Find resource pages
While link building can be time-consuming, there are some shortcuts you can take. One shortcut is to find existing resource pages and see if you can get your website or content listed on them.
A resource page is a page on a website that links to other websites or resources on a specific topic. They are often created by bloggers, industry experts, or businesses as a way to share valuable information with their readers.
To find resource pages, simply conduct a Google search for "keyword + useful resources" or "keyword + useful links."
9. Search for broken links
With so many websites out there, it's inevitable that some links will eventually become broken. When you come across a broken link on another website, you can contact the site owner and let them know.
In most cases, they will be happy to replace the broken link with a working one on your website. Not only is this an easy way to get a backlink, but it also helps you build relationships with other website owners.
10. List your site in online directories
Most online directories are low quality and not worth your time, but there are still some that can be beneficial for link building. The key is finding directories specific to your niche or industry and having a high DA.
Some examples of reputable online directories include Yahoo! Directory, Business.com, and Yelp. To get listed in these directories, simply create a profile and list your website URL with a description of your site and a relevant category to your business.
One of the effective SEO link building tips is getting your website listed in these directories, which can help increase your link popularity and improve your SERP ranking. It may also help drive traffic to your site as people browse through the directory listings.
11. Write your own resource or list page
For some link building opportunities, you may have to create your own resource or list page. But don't worry, this is easier than it sounds.
A resource page is simply a page on your website that links to other websites or resources on a specific topic. To create one, all you need to do is compile a list of websites or resources that would be useful for your readers.
For example, if you are a web design company, you could create a resource page that lists the best web design resources with a short description for each. This way, when other web designers are looking for information, they are more likely to find your page and link to it.
12. Watch out for your competitor's backlinks
If you want to know where your competitors are getting their links, among link building tips for beginners, you will find recommendations to use one of the tools, such as Ahrefs Backlink Checker and Moz Link Explorer.
Both of these tools will show you your competitor's websites' backlinks. You can then use this information to try and get the same links for your own website.
13. Optimize the management of your SEO team
Having an SEO team can be a great asset for any business looking to improve its online visibility, organic traffic, and link building efforts, but it's just as important to manage that team effectively.
With a backlink management tool like Link Checker Pro, you can create subaccounts for your team members so they can access specific projects assigned to them. In each subaccount, you will see the link building statistics per user so you can compare results, give them feedback, and make decisions about future marketing efforts.
14. Do a monthly analysis of your link profile
When you're starting out, it's essential to get into the habit of analyzing your link profile on a monthly basis. Spam backlinks are very common, and you don't want them to drag down the quality of your link profile and hurt your efforts.
Link Checker Pro allows you to automate this process by performing a backlink profile analysis for your website in a few minutes. It can help you keep track of your progress, check URLs and domains to save money and time, and find new opportunities for link building.
15. Turn mentions to backlinks
Most of the time, your website or brand will get mentioned online without you even knowing it. They may have used your product or service or mentioned it in a blog post, review, or social media update, but they didn't include a link back to your website.
When this happens, you can turn these mentions into backlinks by reaching out to the site owner and asking them to add a link to your website. This strategy is an easy way to get high-quality backlinks without having to put in too much work.
Apply These Link Building Tips with Link Checker Pro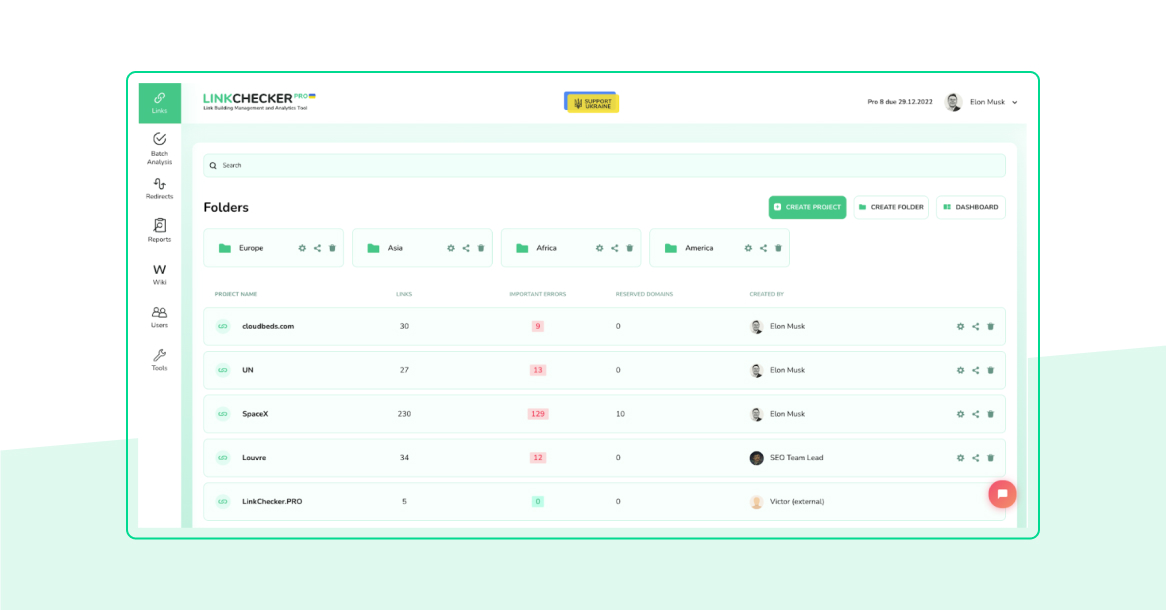 As more and more businesses move their operations online, the importance of link building will only continue to grow. Whether you're a marketer, a business owner, or an SEO specialist, these SEO link building tips should be a part of your digital marketing strategy.
Link Checker Pro is an amazing tool for backlinks management and analysis. With an easy-to-use interface and detailed reporting features, you can easily identify and recover lost or low-quality links in real-time, analyze the quantity and quality of your links, and monitor all your links in one dashboard to keep track of your link building progress.