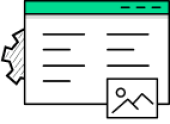 Blog Maintenance and Monitoring: Tips and Strategies
Learn why blog maintenance and monitoring are crucial for a successful online presence. Discover tips and strategies for effective blog monitoring with LinkChecker.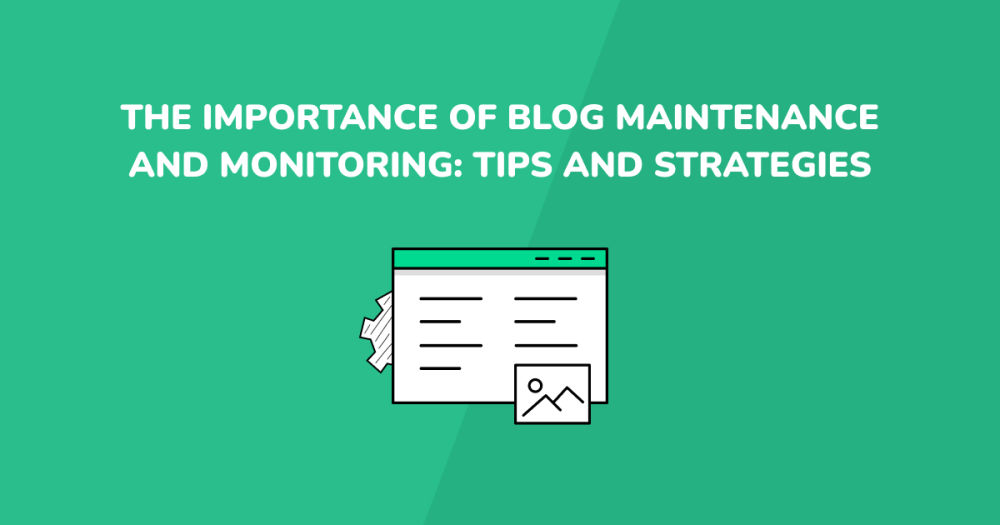 Blog maintenance is an ongoing task that requires vigilance in order to ensure optimal user experience and security, as well as keep up with ever-shifting SEO trends. It is in your best interest that any problems get quickly identified and addressed.
Effective Blog Maintenance for Your Website
Doing everything manually may be out of the picture. That's why it's best to use blog monitoring tools to track different aspects, such as the health of your backlink profile or your keyword positions.
Tools only get you halfway. You still need smart strategies such as automating monitoring processes and outsourcing to save time.
This article gives you a full overview of how to maintain a blog.
You'll learn all the top performance indicators to watch for and tools to use. Without further ado, let's dive in.
What is Blog Monitoring?
Blog monitoring is the process that allows you to see how your blog, and particularly, how your content, performs. This involves analyzing the incoming traffic, time spent on a page, conversions, and so on.
It should be followed by blog maintenance, which means taking corrective steps to make sure the blog works well and stop it from breaking down. Blog maintenance should be done on a regular basis following a set schedule, as needed to respond to monitoring results and future updates.
Why Blog Monitoring is Crucial for Your Website's Success
If you don't monitor your blog regularly, you could be missing out on some crucial opportunities and exposing yourself to some serious risks. Here are some of the things that could go wrong if you don't monitor your blog:
You could be losing traffic and conversions to your competitors who are optimizing their blogs better than you;

You may suffer SEO attacks;

You could be vulnerable to hackers who may try to inject malicious code or spam links;

Your blog could be going offline without you knowing due to uptime issues;

Your website pages could be slow, posing potential customers and hurting your rankings.
Why Blog Maintenance and Monitoring is Important
Blog monitoring helps you to maintain a successful blog by allowing you to:
Identify topics, formats, and new ideas that resonate with your audience and optimize your content strategy accordingly;

Track how your blog ranks for relevant search queries and improve your SEO practices;

Measure the effectiveness of your marketing campaigns and adjust your budget and channels as needed;

Detect any technical issues or errors that might affect your blog's functionality and user experience;

Benchmark your blog against competitors and industry standards and identify areas for improvement;

Identify new opportunities to improve the look, functionality, and user experience of your web pages.
It's all about knowing what could go wrong or what may go wrong, and reacting as fast as possible to mitigate adverse effects.
How to Maintain a Blog
If you want to grow your audience and reach more people with your amazing content, you need to know how to maintain your blog effectively. The following tips can help:
Track Key Metrics
There are two ways to arrive at decisions as you manage a blog: the clueless way and the smart way. The clueless way involves making decisions that are not grounded on any facts. And the smart way is where you don't claim to fully know anything, but instead, rely on insights provided by various monitoring tools.
1. Traffic and Engagement
Understanding the health of your blog requires more than just a simple glance. It's essential to measure both traffic and engagement for an accurate picture, which will tell you about how many people are visiting as well as what kind of content resonates with them.
By monitoring indicators such as pageviews, bounce rates, clicks, and session durations alongside the sources from which visitors come (traffic channels), you can gain a better understanding of your audience's behavior.
2. Conversion Rates
Blogging has a wide range of objectives, and conversion rates can serve as an effective barometer to measure success. If you're aiming for paying customers, newsletter sign-ups, or free trial enrollees - having a reliable measurement system is key to seeing if your strategies are working.
The following table summarizes other performance indicators to keep an eye on based on each category of tools:
Category

Metrics to track

Examples of tools

Engagement and user experience

- Unique & returning visitors

- Bounce Rate

- Sessions

- Pageviews.

- Average Time on Page

- Traffic Sources.

- Audience Location.

- Conversion Rate

- Revenue

- Cost per Acquisition (CPA)

- Traffic sources

- Pages per session

- Core Website Vitals

- Average page load time

Google Analytics reports

MonsterInsights plugin for WordPress

PageSpeed Insights

Backlinks

- Domain Rating

- URLs Rating

- Number of backlinks

- Number of referring domains

- Live Broken Backlink Ratio

- Dofollow Nofollow Backlink Ratio

- Referring pages in Google's index

- Anchor text distribution

- Ahrefs.com

- LinkChecker.Pro




SEO

- Organic traffic

- Click-through rate

- Domain authority

- Top pages

- Top keywords ranked

- Crawl errors

- Mobile traffic

- Exit rate

- Competitor performance

- Indexed pages

- Technical SEO errors

- Google Search Console

- Ahrefs

- SiteChecker

- SEMrush Site Audit




Heatmap tracker

- Frequency of clicks

- Scrolls

- Moves (mouse movements)

- Time per element

- Heat (Hot or cold)

- HotJar

- Crazy Egg

- Lucky Orange

- Mouse Flow

- FullStory





Uptime and website performance

- Uptime & downtime

- Availability

- Requests per second

- Hardware utilization

- Average response time

- Page speed

- Time to title

- SSL certificate expiry

- UptimeRobot

- Pingdom

- ManageWP Worker

- SuperMonitoring

Social media engagement

- Engagement rate

- Virality rate

- Number of social shares

- Audience growth rate

- Post reach

- Referral traffic

- Amplification rate

- Applause rate

- Sprout Social

- Hootsuite

- Social Pilot

- Social Media Examiner

Content freshness

- Ranking position

- Last modified date

- Publication date

- Frequency of updates

- Time spent on a page

- Website's backend
Identify and Fix Issues
One of the most important blog maintenance tasks is finding and fixing problems that affect how well your site works and how users feel about it. However, not all issues have the same urgency or impact, so you need to prioritize them based on their severity.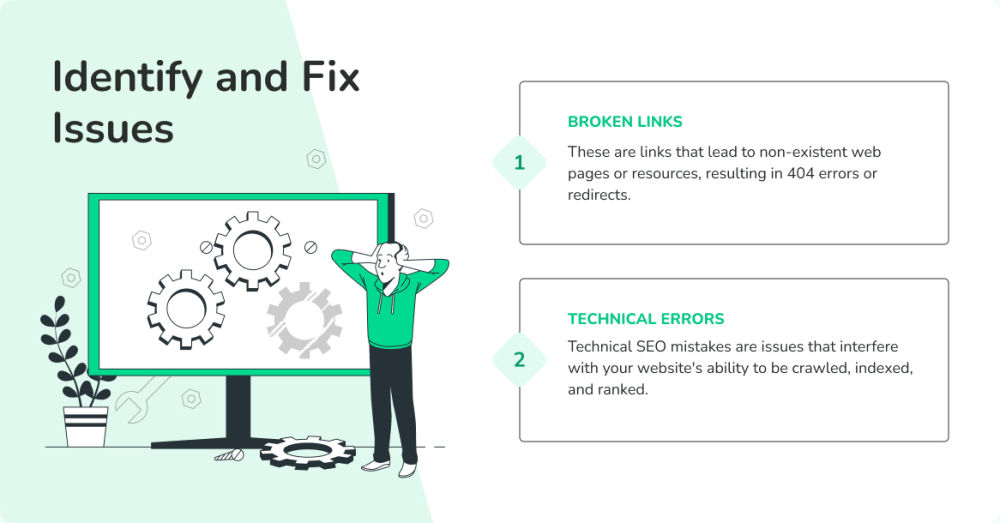 Toxic backlinks, for example, can lead to penalties, so it's important to get rid of them as soon as possible. On the other hand, you can deal with content freshness issues in different ways depending on your content strategy and schedule.
1. Broken Links
These are links that lead to non-existent web pages or resources, resulting in 404 errors or redirects. Broken links can harm your user experience and your ranking potential. To fix them, you should regularly audit your website and remove or update any broken links.
2. Technical Errors
Technical SEO mistakes are issues that interfere with your website's ability to be crawled, indexed, and ranked. Some of the most common technical SEO errors that your website can face are:
Slow loading speed:

Slow loading speed negatively impacts your user experience, conversion rate and SEO ranking.

Duplicate content:

Duplicate content can confuse search engines and dilute your authority and relevance.

Indexing issues:

The problem arises when search engines are unable to properly index your website's pages.

Sitemap issues

: These occur when your sitemap contains pages that you don't want search engines to index, such as broken pages, noindexed pages, or de-canonicalized pages.

HTTPS issues:

These occur when your website is not secured with an SSL or TLS certificate, or when some of your pages or resources use the HTTP protocol instead of HTTPS.

Mobile-friendliness issues:

It's when your website is not optimized for mobile devices by having a responsive design, fast loading speed, legible text size and easy navigation.
Stay Ahead of Trends
Blog maintenance is not just about fixing broken links, updating plugins, or optimizing images. It is also about making sure that your blog's design, layout, features, and functionality are in line with the latest best practices and user expectations. By staying ahead of trends, you can ensure that your blog looks modern, professional, and user-friendly.
1. Industry Changes
To stay ahead of the curve and make sure your business is primed for success, it's essential to be on top of trends. Be sure to follow expert advice from influential people in the field across various social media platforms, blogs, and newsletters.
Make sure you attend events like conferences or workshops - there you can hear firsthand how other professionals and industry leaders are tackling challenges related to your line of work. Lastly, don't underestimate market research tools such as Google Trends; with them, you have direct access to seeing which topics are taking center stage right now.
2. Competitive Analysis
Competitive analysis can assist you in leveraging your competitors' resources to understand what is going on. What's more, you can try to keep up with them by covering the same topics, going after the same keywords, or implementing design changes.
Competitors are a valuable resource; make good use of them. They can help you grow your business by keeping you competitive.
Strategies for Streamlining Blog Maintenance and Monitoring
You can save time and increase efficiency by using the following strategies when monitoring your blog:
Automate Processes Where Possible
Backups, updates, security scans, performance checks, and other tasks can be automated. Use tools that allow you to create workflows from scratch, such as KissFlow and Zaiper.
Outsource Tasks to Specialists
Specialists can provide technical skills and constant attention that may not be available in-house. Leaving the website management to the experts can further save you time and money, as you'll get things done without fail.
Prioritize Tasks Based on Impact and Urgency
Impact refers to how much a task affects the website's goals, such as user satisfaction, conversion rate, or revenue. Urgency refers to how soon a task needs to be done before a deadline or to prevent a potential problem. Some tasks may have a high impact on the website's functionality and user experience, while others may have a low impact or can be deferred to a later time.
Streamline Communication and Collaboration with Team Members
Ensuring effective and efficient interaction between team members leads to successful outcomes. Setting up an organized system of communication, such as through email or video conferencing, helps define expectations for each project task and provides a platform for sharing feedback. Using project management software can streamline the process further by allowing clear tracking of progress and quickly assigning tasks with minimal effort.
Link Building and Backlinks Monitoring
Backlink monitoring is the process of keeping track of your backlinks and analyzing their quality and number. First and foremost, checking your backlink profile allows maintaining good quality links. Backlinks can be lost. This, in turn, can have a negative impact on rankings, diminishing all the effort or budget that were spent on getting those links.
You can also find and get rid of any toxic or low-quality links that could hurt the performance of your website. These link building tips will help increase the number of referring domains.
Social Media Monitoring
Social media monitoring is a powerful tool to get to know your customers. Through careful analysis of conversations across social platforms, you can gain a better understanding of customer wants and needs, measure brand awareness in real-time, identify emerging trends quickly, connect with influential people, and even generate valuable leads!
Develop a Disaster Recovery Plan
A disaster recovery plan is a must-have if you want to survive and thrive in the face of unexpected events that may impact your website. Disasters can arise from natural disasters, cyberattacks, buggy code, or human error. Still, keep a clear and detailed plan for how you will get your most important operations and data backups up and running as soon as possible.
What are Some Common Blog Maintenance Tasks that Need to be Performed Regularly?
Even if you haven't found any problems with your blog, you will still need to do the regular maintenance tasks when they are due. As a result, on a daily, weekly, and monthly basis, you must:
Backup your blog data to avoid losing your content and settings;

Update your plugins and themes to improve your blog's functionality and appearance;

Optimize your database using a plugin to remove extraneous data and speed up your site's performance;

Check for broken links to external and internal pages;

Audit your content to improve factual correctness, add new information, or optimized it with keywords;

Find new internal linking opportunities to better distributed link juice across your pages and add value to your blog post;

Reply to user comments to as to foster new relationships and obtain feedback on your content;

Schedule new social media posts such as scheduling tweets.
Ensuring Optimal Performance & User Experience
Creating a better user experience should not just be a goal but a never-ending quest. So, what can you do to improve the aesthetics and usability of your website today? Aside from designing it with user-centric principles and best practices, also pay attention to:
1. Regular Updates
You can keep your website up-to-date by adding new, interesting content with relevant keywords that boosts your SEO ranking. Use Google Search Console to find search queries that aren't being targeted by your existing content and use them to create new pages and blog posts.
Additionally, don't let your blog section and social media accounts go stale. Find new topics and content formats to keep users engaged and show that your business is still active.
2. Plugin and Theme Management
Developers will update plugins to improve the features that are already there, add new ones, and fix bugs that could be a security risk. If you use a CMS like WordPress, you'll get notified wherever there is a new update. Don't ignore them. But at the same time, don't enable auto-updates if you're not sure how the plugin can impact your site's functionality and stability.
Additionally, pay attention to any theme updates. You can preview how themes look before implementing any changes. But note that incorrectly updating a theme can replace the content on your pages if not done properly.
2. Improved Page Load Speeds
Improving page load speeds rewards your users with a faster and smoother experience. You can go about boosting your speed in various ways, including by optimizing your blog's code and images, reducing the number of requests, implementing browser caching, using CDNs for content delivery, upgrading to faster servers, and more.
3. Mobile Responsiveness
More and more interactions are taking place on mobile. And Google moved to mobile-first indexing a while ago, meaning that they crawl your mobile pages as a basis for determining how to rank your website pages.
First things first, pay attention to any mobile usability issues in your Google Search Console results. Additionally, run Core Web Vitals tests to check mobile crawlability.
Strengthening Security
Website security is extremely important for protecting your online presence and reputation. Hackers are constantly looking for ways to exploit vulnerabilities.
That being said, the security of your website begins with you and your team. The World Economic Forum's Global Risks Report says that 95 percent of cybersecurity breaches are caused by mistakes made by people.
1. Protection Against Hacks and Malware
You need to take some steps to protect your blog from cyberattacks. Here are some potential protections you can use:
Use strong passwords, and store it using a password manager;

Update your software and plugins as outdated software and plugins can harbor vulnerabilities; .

Install a security plugin or service to block malicious traffic, resist attacks, and alert you of any suspicious activity;

Backup your site to easily restore your pages and content in case of potential data losses;

Secure your user's connection by having up-to-date HTTPS and SSL certificates.
2. Regular Backups
Backups provide a recovery point if you lose critical data. But where should you backup your information? The best places are those that are reliable, accessible, and affordable.
Some of the options include cloud storage services (such as Google Drive or Dropbox), external hard drives (such as USB flash drives or portable SSDs), or online backup services (such as Backblaze or Carbonite). Using a combination of these methods can bolster security and guarantee redundancy.
Tips for Effective Blog Maintenance and Monitoring
Here are some tips that will help you become more strategic and adaptive as you undertake blog maintenance:
Develop a Maintenance Schedule
The maintenance schedule outlines the tasks and frequency of blog upkeep activities. Some of the common tasks you need to schedule on a regular basis include
Updating the software and plugins;

Backing up the data;

Checking for broken links and backlink errors;

Optimizing the speed and SEO;

Creating and refreshing old content.
Engage in Regular Content Audits
A content audit is an important step in ensuring your online presence effectively reaches the right audience. It's a deep dive into how content performs and what opportunities exist to optimize it for search results or keyword targeting based on creating helpful, people-centric authoritative material that aligns with your overall strategy.
Stay Up-to-Date on Industry Best Practices
Keep your finger on the pulse of all that is happening in your field, and you could find yourself ahead of the curve when it comes to productivity. Exploration can lead to discovery—innovations and developments coming together provide an opportunity for gaining a competitive advantage.
Utilize Monitoring Tools and Analytics
Monitoring tools can help you understand user behavior on your blog, such as which pages are most popular, how long visitors stay, the different browsers and devices they're coming from. This information can help you optimize your blog to rank higher and improve conversions.
Why Do You Need to Use Blog Monitoring Tools?
Blog monitoring tools do a great job at helping you understand the strengths and weaknesses of your web pages and posts. You can also stay on top of the latest developments in your field, and position yourself as an authority.
Blog monitoring tools are also essential for any blog focused on scaling and reaching more people. And again, it is not humanly possible to do everything manually.
How can Blog Maintenance Tool Simplify the Process?
Many monitoring tasks may be impossible and too tedious to execute without using an automated tool, for instance, checking your ranking performance, number of backlinks, new referring domains, etc. A tool with preprogrammed workflows also offers reliability and repeatability when executing maintenance tasks like updates, backups, and optimizations. You can also get real-time reports and alerts on your site's health and performance.
Benefits of Using a Blog Monitoring Tool
Using a blog monitoring tool affords you the following benefits:
It saves you time that you would spend checking your site or backlinks for any issues manually;

It can be more accurate;

Automation can allow you to scale and manage many blogs at the same time;

You also get real-time alerts and notifications, allowing you to act promptly and minimize their damaging effect;

You're freed up from worrying about something going wrong, giving you adequate time to focus on managing your business.
What are Some Essential Tools for Blog Maintenance?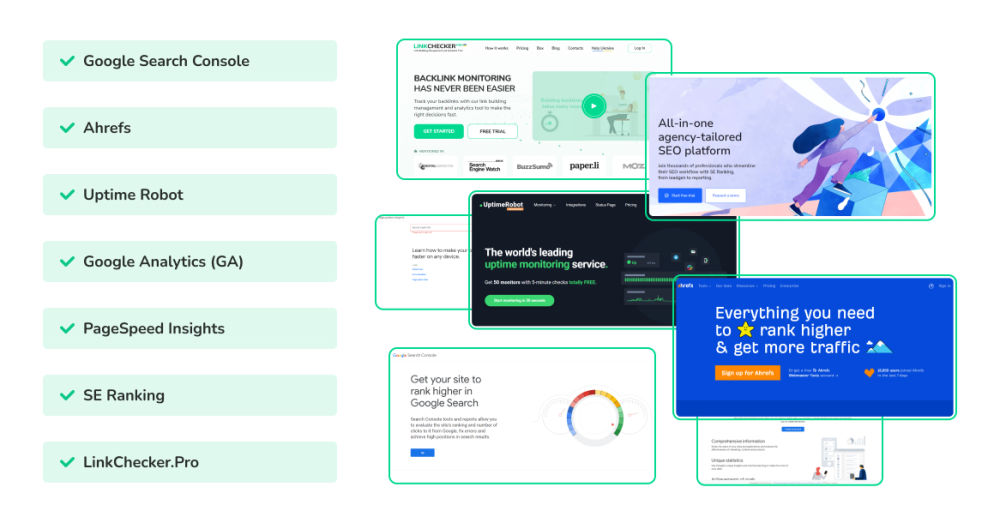 Google Search Console (GSC):
Google Search Console is a free service from Google that lets you monitor your blog's performance on Google's search engine. You can monitor ranking keywords, clicks and impressions, crawlability and indexability errors, mobile usability issues, and more.
Ahrefs
Aherfs gives you a 360 view of your website. You can keep an eye on the ranking of website pages in SERPs, run technical audits of your website, analyze your backlink profile, and much more. The tool also enables you to compare the performance of your website against competitors and gain some insight into what they're doing.
Uptime Robot
UptimeRobot is one of the leading server monitoring tools. You can take advantage of the free tier to monitor your blog's uptime and downtime every 5 minutes. Alerts are sent via email or SMS.
Google Analytics (GA)
GA is one of the best Google blog monitoring tools because it's free, which makes it accessible to businesses of all sizes. With just a small piece of tracking code that needs to be added to your website, you get a wealth of information about incoming traffic, including information about user behavior, traffic sources, and conversions, including what pages users view, how long they stay, what actions they take, and the devices they use.
PageSpeed Insights
The free toolkit by Google checks the health of your website's core web vitals to gauge the page experience.
SE Ranking
SE Ranking helps website owners and digital marketers improve their search engine rankings and increase online visibility. Users can leverage a variety of tools to find relevant search terms, improve the content on their pages, and keep an eye on how their rankings change over time for certain queries.
LinkChecker.Pro
LinkChecker allows you to dive deep into your backlink profile while keeping an eye on important things like anchor text, indexability, etc. Get the full picture of how your links are performing with their comprehensive analysis.
LinkChecker also has a great feature that checks to see if Google has indexed the backlinks. Ahrefs, for example, doesn't do this.
Backlink Monitoring as a Part of Blog Maintenance
Monitoring your backlinks is the only way to ensure that you're benefiting from links acquired through initiatives such as outreach blogging, guest posting, or broken link building. Many issues can affect how much link juice flows to your site from accidental deletions, wrong linking parameters, content updates, 404 errors, and partners who decide that they don't want to honor linking agreements.
Additionally, you don't have control over who links to your website. That means your site can accumulate toxic links, signaling that they come from low-quality or spammy sites with no relation to your industry or topics.
While Google is good at discerning and ignoring toxic backlinks, there is still a chance of having the links mistaken for a more elaborate link scheme.
The Optimal Solution for Monitoring Blog Backlinks
LinkChecker.Pro is the ultimate backlink manager software for link-building analysis and backlink management. This monitoring solution shows you everything you need to know about your inbound links: their number, quality, dynamics, types, anchors, tiers, and more.
You can easily get a snapshot of one or more projects from the dashboard and assess the authority of thousands of potential referring domains with the bulk backlink checker.Whether you are a link builder, an SEO project manager, or a business owner, LinkChecker.Pro will help you achieve your goals faster and easier.
Request your free trial today, and say goodbye to the hassles of manually tracking your backlinks with a spreadsheet!
Summary
Blog monitoring revolves around checking the performance of key metrics across vital categories like SEO, user experience, backlinks, uptime, and availability. And blog maintenance entails carrying out various routine tasks like updating your content, fixing backlink issues, optimizing your site speed, and strengthening your security.
By doing these tasks regularly, your blog has a better chance of thriving like a beautiful flower. Or a cactus. Whatever floats your boat.