Backlink Removal: A Step-By-Step Guide
Links are beneficial. Typically, the more links you have, the better. However, since links can be abused too, just like any tool for growth or success, there are restrictions around how they are used. In addition to those rules about linking properly, you have to watch websites that link to you.
They can cause you to get penalized for unnatural linking or affect your rankings due to poor quality or some irregularities search engines like Google watch out for.
You can remove toxic backlinks connected to your domain using the Disavow Tool. That's what we are going to cover in this article. Let's dive in.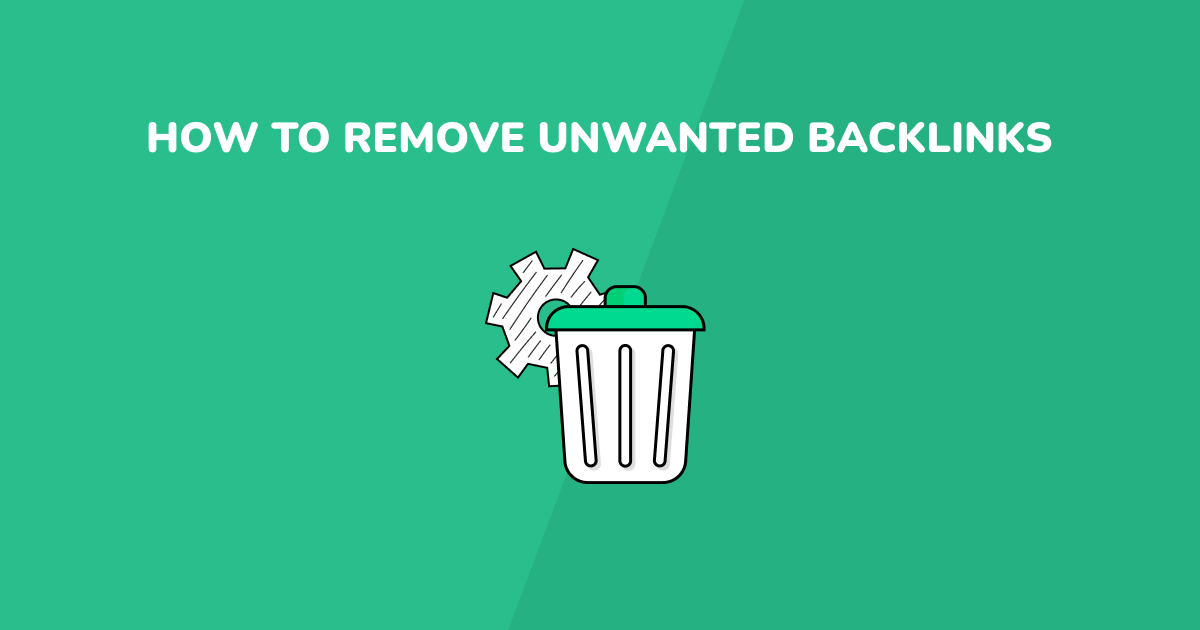 Some Background on the Disavow Tool
Before we start talking about bad backlink removal with the Disavow Tool, how it can be used, and why one needs to consider it, let's get some background first.
The Disavow Tool was introduced in late 2012 in a completely different SEO landscape than the one we operate with now. Manual Actions were widespread at the time of the Penguin link-spam upgrade. Sites that had been doing backlinking in a way the Search Engine did not approve would get a notice from Google. After that, all or part of their website would vanish from search engine results.
So, website owners would talk to SEO experts to get it fixed. The agency or expert would then go through the portfolio to find terrible links, create a file for them and engage in often lengthy communication with Google through Google Search Console (formerly the Webmaster Tool) to try and fix the issue.
If you met consequences due to questionable link-building practices, you were told what the penalization was for. The consequences were clear and included the use of the Disavow Tool.
Manual backlink removal is not very common these days. The way Google works is increasingly automated with every update, which has led to some confused website owners experiencing dips in their traffic that are never explained.
The Daily Mail even sued Google over the weird unexplained changes in traffic that may or may not be linked to backlinking.
Does that make the Disavow Tool useless, then? Well, Google said something about that not too long ago.
The Relevance of the Disavow Tool
Understandably, website owners must wonder if they should fix toxic backlinks when they experience traffic dips. The thinking behind that assumption is that bad links, or the Disavow Tool may have something to do with the dip. However, Google seems to say that this is no longer the case.
John Mueller, Google's Search Advocate, said in 2020 that using the Disavow Tool for backlink manual removal does not mean a website will see traffic increase. If that happens, something he said would be rare; it would be attributed to correlation and not causation.
Instead of penalizing bad links, Google has advised that it just ignores them now. That said, if you see a big traffic drop, checking and disavowing links is one of the things you might have to do. There is no harm in optimizing everything whenever you can.
Why Would You Disavow Links?
In answering the "why", we also have to ask Google about when to use the Disavow Tool. According to Google, they only want you to use it when dealing with penalties manually attributed to your website.
If you get a message from Google concerning "unnatural links"", that is your cue that you're being penalized, whether you were complicit or not. The term "unnatural links"; describes links acquired while violating Google's guidelines regarding links.
As a webmaster, your task is to deal with the penalties when they arise and take a proactive approach when necessary.
The Proactive Approach:
Proactive use of the Disavow Tool is called for when you are worried that your backlinks may not be as "clean" as you would like. It could be that your portfolio is already suspicious, and you want to get ahead of it before anything happens.
So, how to remove toxic backlinks?
Well, let's dive into the backlink cleanup process.
A Step-By-Step Description of How to Remove Bad Backlinks From Website
There's a process to follow and facts to keep in mind when you want to disavow links. Let's discuss them: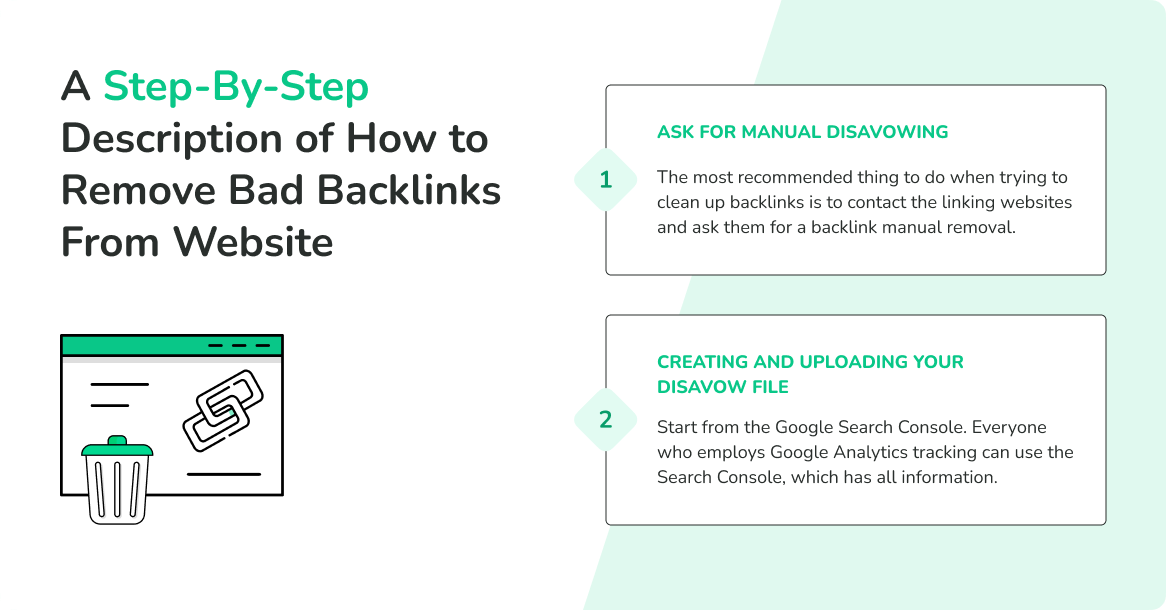 Ask for Manual Disavowing
The most recommended thing to do when trying to clean up backlinks is to contact the linking websites and ask them for a backlink manual removal. This step is especially recommended for people who have gotten manual penalization from Google.
You should submit all the links you manually tried to remove and how your attempts played out in your reconsideration request.
Disavowing links without asking the websites linked to do it first will likely see your reconsideration request denied. The reality is that most website owners will refuse to remove the links or ignore your request.
If that is the case, you can move on to create a disavow file that Google can use to disavow the domains in question.
Creating And Uploading Your Disavow File
Start from the Google Search Console. Everyone who employs Google Analytics tracking can use the Search Console, which has information about the site's linking structure.
Disavow files are usually .txt documents with a list of all links pointing to your domain that you would like Google or Bing to ignore in page rankings. The files are encoded in 7-bit ASCII or UTF-8.
A links audit comes next and can be accessed from the Link Report page. From the Search Console, click on the Link Report and then "Export External Links" (top right of the screen), then click on "More Sample Links". You can export the report in a format you like.
Some things to keep in mind if you choose to DIY this include:
Ensuring that every entry is its own line.
Ensuring each entry starts with "domain" (quotation marks excluded) when you want to unlink from an entire domain. However, in cases where some links from a domain may be good for you, you can remove the domain specification and include only the links you would like disavowed.
Not exceeding the file size limit, set at 2MB and 100,000 lines (including blank lines or comment lines).
NOTE:To include comments in the file, you can start a line with the # sign. Google will not see or use them, but they are often used by website owners disavowing links to keep track of the websites they asked to unlink from and how they fared.
Here's what that looks like:
Domain:spamweb.com
domain:darkcap.com/link-to-me
By blocking the domain as a whole, you save yourself the trouble of having to list out each URL specifically.
After that, you can go to the Disavow Tool and click through each warning prompt until you get to the dialogue that allows you to look at your folders and upload the file you saved earlier.
NOTE: Those with multiple accounts should ensure they have selected the right one.
After uploading the file, Google will no longer consider the domains you chose, untying any effects they may have on your page's ranking. To recap, start with defining the links you want to disavow, create the list of links to disavow (separated by URL or domain or both) and upload it to the Disavow Tool or the Disavow Links tool in Bing.
It sounds simple enough, but there's more to learn about the aspects surrounding it.
Locating Your Bad Links
Before you race over to the Google Search Console, you first have to know how to find the bad backlinks.
Start by ensuring that your site has been registered and verified with Google Search Console. You should check that both the www and non-www iterations of the domain are verified.
When you are penalized manually, Google Search Console will send you a notification to assist in recovering your website. After you are all set up, the tool to discover backlinks is at your disposal and ready to go.
Here's how you access and use it:
On your GSC page, select your site;
Click on "Search Traffic" and click links to your site;
Click on who links the most to see more information;
Choose "download more sample links".
With these steps, you can get a list of everyone linking to your site and audit each one to see which ones need to go.
Not sure how to audit? Here are the basic criteria to follow:
Relevance: Are the pages and domain related to the topic? Ensure that there are no pages dedicated to hosting links to other sites since this could be interpreted as a reciprocal link scheme.
Quality: is the site linking to you legitimate, or is it a content farm that serves ads and affiliate links? Pages with affiliate links and ads can be legitimate, which leaves the decision to you to determine which ones are quality and which ones are not.
Anchor: Anchor texts have to be relevant. Gone are the days when you could add links to anchor texts even out of context and still get ranked. Linking to text that seems to occur randomly in the content is not a great way to go. It has to sound organic and be relevant within its context.
It's not just the linking pages you must consider when trying to fix toxic backlinks but also the quality of all the links aimed at the page. Google uses the term "natural" when describing the link profile.
What does that mean? Here are some tips:
Diversify your anchors: if all or most of the content contains keyword-rich anchors, the profile will stand out as unnatural. A good profile diversifies the anchors used and blends them into the content so that it doesn't feel like someone is throwing keyword darts at your content.
Diverse domains: Many links from a few domains look suspicious. A natural profile should have links from diverse domains, excluding web 2.0 platforms like WordPress, Tumblr, Twitter, and Facebook.
Natural link building speed: The speed at which a page accrues links should be slow and even over time. Building a high number of links over a short period looks unnatural. This is not applied to pages that go viral. Therefore, you have to watch the speed at which links build up.
Adhering to these practices ensures that the links built over time are natural and do not raise suspicion.
Before you get panicked, most people do not have that many bad links and often do not need to disavow anything. These best practices are intended to guide you in identifying any issues you might need to iron out pre-emptively to avoid getting manual penalization.
Defining Bad Links
Most sites adhere to the recognized guideline that hyperlinks that are advertisements or paid links should be designated as "NoFollow", indicating to search engines that they should not be considered suggestions.
Spammers will be less likely to attack your site if you use "NoFollow" tags, putting you in control. Because paid links might deter Google from rating you, the "NoFollow" feature indicates to the search engine that your links are organic and reliable.
Ever since the Penguin Algorithm update of 2012, links have had more importance in how they serve and affect your SEO. The Penguin update was introduced to reduce the ranking of sites that relied on link spamming to artificially boost rankings by manipulating the search engine.
Since then, manual penalties resulting from these unnatural links have been more frequent. The practices that get people penalized include:
Buying and selling links on your site. Without a "NoFollow" tag, they will attract consequences.
Link-swapping (where sites swap links to pad their link portfolios.)
Having your links conveniently fall on the same words or phrases within your content.
Essentially, bad links are those explicitly created to fool the search engine into ranking a site higher.
What Happens When You Disavow Link?
After disavowing links, the search engine assigns it an invisible "NoFollow" tag that will ensure they do not affect your search engine rankings, even though they will still show up on GSC among sites that link to yours.
If you received a manual penalty from Google, remember to try asking the websites in question to remove them. If they refuse or ignore you, create and send the disavowal request as part of your reconsideration request.
The answer typically arrives within two weeks. However, the recovery period depends on the penalty and how many quality links you have left.
How to Get Rid of Bad Backlinks: Final Thoughts
Before you whip out the Disavow Tool and start cutting off links, hold your horses and consider that there is no proven way to know which of your links are benefitting you and which are dragging down, assuming there are links doing that.
If you engaged in practices Google disapproves of, using the Disavow Tool could actually help Google know if your link profile is good or bad, making it harder for you to grow if Google thinks the profile doesn't look good.
From our experience, we might say that the benefits are not easily quantifiable and are almost impossible to test, with very little in the way of historical documentation about the effects of using the Disavow Tool. The long and short of it is to use the tool only if you have been manually penalized or think some links are blatantly bad and need to be cut off.
And in terms of monitoring your backlinks, LinkChecker will come in handy! Our tool for link building management and analytics will help you in the process of building new links of high quality, as well as in keeping track of all the links you have previously built.